English names given to rare species after competition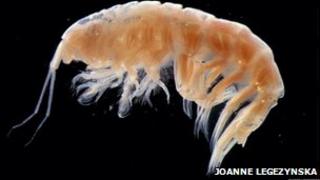 Ten endangered species have been given English names for the first time to draw attention to their plight.
Thousands of suggestions were submitted in a competition organised by Natural England, the Guardian and the Oxford University Museum of Natural History.
Among the winners were sea piglet, for a deep water shrimp, and pixie gowns lichen, which turns green when wet.
A rare beetle found only in Windsor Great Park, which feeds on insect larvae, was named Queen's executioner.
All known species of plant, animal and insect are named in Latin using a scientific system of classification.
While Usnea Florida may mean something to a select few, the lichen it describes - which has special medicinal properties - can now also be known as witches' whiskers.
The competition was designed to encourage interest in, and engagement with, the biodiversity of the UK.