UK butterfly population tracked in Big Butterfly Count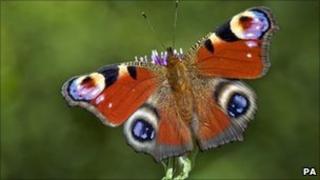 The public is being asked to help track the UK's butterfly populations as conservationists warn many native species are in serious decline.
The online Big Butterfly Count survey aims to get a better understanding of which species are in need of most help.
Butterflies are sensitive to changes in environment and have seen a collapse in numbers in the past three decades.
More than three-quarters of the 59 species found in the British Isles are in decline, including the meadow brown.
The holly blue and gatekeeper are among the other butterflies once recently regarded as common species which are now believed to be joining the list in need of protection.
The survey is being run by the charity Butterfly Conservation and retailer Marks & Spencer as part of its environment commitment.
Adults and children are being invited to spend 15 minutes in gardens, woodlands, fields or parks between 24 July and 1 August and make a record of the butterflies and day-flying moths that they see.
The organisers hope the survey will help build up a better picture of the fortunes of the country's butterflies, and give an indication of the wider health of countryside and nature.
Hot spell
According to Butterfly Conservation, half of all butterfly species are threatened with extinction.
Numbers have hit an all-time low in the past three years because of poor summer weather and long-term problems caused by loss and degradation of habitat and changes to land management.
The butterfly population is also said to have been affected by the development of gardens and the practice of cleaning-up parks and roadside verges.
Some common species have seen dramatic declines in recent years, including the small tortoiseshell butterfly and the wall butterfly. The latter has now disappeared from large parts of central and southern England.
Others such as the holly blue are thought to have moved north amid rising temperatures, while the blue butterfly - once only common in the south - has started to colonise Edinburgh in the past few years.
Others common species such as red admirals and peacock butterflies are said to be mobile than rarer species but fewer have been seen so far this year.
Richard Fox, surveys manager at Butterfly Conservation, said: "Reports suggest numbers of many garden species and common or widespread species are down so far this year but the warm weather will have benefited them.
"This year by recent standards we had a long hot spell for whole of June which, compared to the last few summers, was amazing and will have benefited the butterflies that were out and about at that time."
Sir David Attenborough, president of Butterfly Conservation, said: "Butterflies in profusion tell us that all is well with nature. When they decline it's a warning that other wildlife will be soon heading the same way."