'Sniff code' device controls wheelchair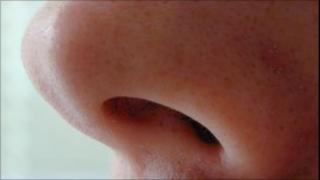 Scientists have developed a device that allows people with severe disabilities to control a wheelchair by sniffing.
Researchers from Israel have also used it to help patients who are completely paralysed to communicate.
Sniffing is controlled by the soft palette, which receives signals directly from the brain rather than from the spinal column.
The team said it allowed paralysed people to communicate, in one woman's case for the first time in 10 years.
Noam Sobel, professor of neurobiology at the Weizmann Institute of Science in Rehovot, Israel, said his team was able to build a "sniff controller" by taking advantage of the fact that soft palette is controlled by signals from cranial nerves.
"In fact, it is really simplistic, it is one of the things that I like about our project in that it is low-tech," he told the BBC's Science in Action programme.
"We hypothesised that people would be able to control their soft palette, therefore sniff despite severe injuries."
The control device works by placing a small rubber tube in front of the nostrils, which measures changes in pressure in the nose.
"It enabled paraplegic participants to drive an electric wheelchair through a 'sniff code' as it where," Professor Sobel explained.
"They became surprisingly proficient surprisingly fast, so it turns out to be a very intuitive and easy way to control devices."