Space station crew replace pump on third spacewalk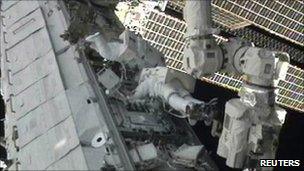 Astronauts on the International Space Station have successfully completed a third spacewalk to repair a faulty cooling system.
Flight Engineers Doug Wheelock and Tracy Caldwell Dyson installed a spare ammonia pump, which cools equipment on the orbiting station.
The first two space walks were to remove the faulty pump.
The ISS has been working at reduced cooling capacity since the pump first failed on 31 July.
Science experiments were stopped and the station, run by six astronauts, was left without many of its backup systems.
The enormous pumps circulate ammonia in heat exchangers outside the station, where water cannot be used because it would freeze.
Nasa stressed that the problem presented no risk to the crew, but correspondents say the repair proved tougher than originally thought.
Monday's final spacewalk took more than seven hours as the two astronauts bolted the spare pump, weighing 780lb (353kg), into place and hooked up electrical connections and fluid lines.
Once in place, Oscar Koehler at Nasa's Mission Control in Houston, radioed to the crew: "The pump is looking good."
The ISS should be back to full capacity by Thursday, said Nasa spokesman Rob Navias.
Related Internet Links
The BBC is not responsible for the content of external sites.