Butterflies flutter again at Churchill's home
By Mark Kinver
Science and environment reporter, BBC News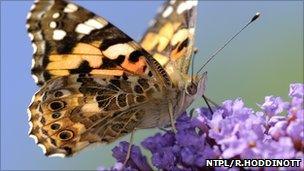 Butterflies are being bred at the former home of Winston Churchill for the first time in half a century.
The National Trust has renovated a butterfly house built by the British wartime prime minister at his Chartwell residence in Kent, South-East England.
Documents show he intended to begin breeding butterflies in 1939, but had to wait until the end of World War II.
As well as being an enthusiast for the insects, Churchill was also said to be a "pioneer of butterfly gardening".
"It's amazing to think that Churchill was planning this butterfly house at the start of the war, no doubt a welcome distraction from the weighty affairs of state," said Martin Warren, chief executive of Butterfly Conservation.
"His pioneering garden inspired many others and helped spread an enthusiasm for butterfly gardening," Dr Warren added.
"Many UK butterflies are in dramatic decline and so it is great news that they are thriving at Chartwell this year."
It is understood that Winston Churchill planned to begin breeding butterflies in the summer of 1939, when he consulted a leading expert of the time, L Hugh Newman.
However, the arrival of World War II meant the plans were put on hold until 1946, when Newman's designs for a butterfly house came to fruition.
The building was originally a game larder, which was then converted into a cool summer house before Churchill had it adapted to become a butterfly house.
"Even war leaders love butterflies," said Matthew Oates, nature conservation adviser for the National Trust.
"As a young man, he was a serious butterfly collector on his travels across the world and later would have spent many a summer enjoying the beauty of butterflies in his garden at Chartwell."
Chartwell was bought by Churchill in 1924, and remained his home until his death in 1965.
"It was way ahead of its time with its focus on making sure that there was a wildlife friendly garden," explained Mr Oates.
"Mixed in with the more formal nature of an English country garden, Churchill insisted that buddleia and thistles were planted to attracted butterflies and other insects."
A team from the National Trust recreated the butterfly house using descriptions taken from articles written by L Hugh Newman, and this summer saw the first peacocks and painted ladies emerge.
Visitors to the house will also be able to stroll along the butterfly walk, following in the footsteps of the garden party guests of the wartime leader.