Energy House journal
Researchers from the University of Salford are constructing an "energy house" - a terrace-style home, thought to be the first of its kind in Europe.
The house is being built inside a three-storey laboratory, which will allow a team of researchers to control heat, light and humidity levels.
The team are writing a regular journal for the BBC News website, charting the progress and experiments in the unique development.
NOVEMBER 2010 - ENERGY HOUSE ALMOST COMPLETE
There are now just four weeks to go until the house is completed and we begin the tests that we will be conducting.
It has been a hectic few weeks: the roof is on, the lath and plaster is going on the walls and the cabling and plumbing is going into the house.
The choices now are more aesthetic: what colour is the kitchen? What colour are the sofas? Are we having leather or material sofas?
These are some simple questions that we can answer, but the main question still needs to be addressed, and that is where you come in.
Where do we begin with our experiments? What is our strategy for retrofit? Is it the building's fabric? Is it technology? Is it funding or is it people?
For many, this involves entering uncharted waters. For example, only 13% of the social housing organisations that responded to a recent survey have a strategy in place for retrofit.
The survey - conducted by the University of Salford, Fusion21 and Procurement for Housing (PfH) - questioned 134 organisations about their approach to improving the sustainability of their housing stock.
It asked them about their preparation to meet low-carbon energy targets set out in the Warm Homes Standard.
More than 80% of respondents currently do not have a strategic plan in place to make their properties energy efficient.
A number of the respondents have no activity in place to increase the sustainability of their homes at all.
Sustainability challenge
Yet the findings suggested that 27% of housing professionals saw sustainable retrofit as the biggest challenge facing the social housing sector, listing it above risks posed by the general economic downturn, reduced development programmes and housing benefit cuts.
Almost 90% of people questioned cited the lack of funding as the main barrier to installing retrofit measures. The main obstacle for tenants was considered to be the home dwellers' lack of understanding about new technology.
PfH and Fusion21 are now undertaking further research with the Tenant Participation Advisory Service (TPAS) to examine the best ways to advise residents on issues around energy saving and how they can change their behaviour to reduce fuel bills.
Stephen Waterworth, Energy Hub manager
OCTOBER 2010 - ENCOURAGE OR ENTICE ENERGY SAVING?
It's less than a month since we laid the first bricks of our Energy House, and work is progressing at an astonishing rate.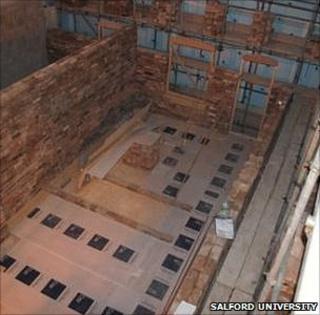 The ground floor is complete and as you read this article it will be nearing completion, allowing our leading academics to work collaboratively on the following questions:
How can we engage homeowners and residents to adopt energy efficient measures?
What technology and initiatives should people adopt?
How can we finance this work?
It is not as straightforward as you may think, especially when human behaviour and attitudes are taken into account.
When a well-known building materials company offered to insulate the lofts of every house on a street, all the residents declined.
This was despite the obvious benefits of reduced energy bills and warmer homes. The reason? Many could simply not face having to clean out their crammed lofts.
This is the issue facing the Department of Energy and Climate Change (Decc) and the newly formed Energy Technologies Institute (ETI) - a new public-private partnership involving some leading British companies - that has been tasked at making our homes more energy efficient.
ETI's chief executive recently observed that if the government was to hit the target of cutting emissions by 80% of 1990 levels, the UK would have to "refurbish and retrofit approximately 12,500 homes per week - that's a city the size of Cambridge every month".
The average UK house generates about five-and-a-half tonnes of CO2 emissions each year. This is roughly equivalent of driving 50 miles each day in a car.
One of the projects that we are currently working on is looking at ways we can get homeowners and residents to adopt energy efficient measures.
A team, led by Professor Eric Bichard, has proposed introducing reward-based incentives - such as garden makeovers, free meals or hair dressing sessions.
In return, homeowners would be required to buy or install the measures recommended by experts. The team hopes to report results within the next three months.
Stephen Waterworth, Energy Hub manager
SEPTEMBER 2010 - CONSTRUCTION 'WELL UNDER WAY'
We are now several weeks into the construction of our Energy House, a unique facility that will allow our experts, in collaboration with industry, to conduct research and experiments on improving the energy efficiency of older properties.
The foundations are down, and the ground floor joists are now in place and the walls are starting to come out of the ground.
The house is being constructed within a three-storey testing chamber that will feature a unique climate system which will generate a range of snow, rain, wind and humidity conditions - which, unlike other test properties, are not dependent on that day's weather.
By studying the different ways the house consumes energy, we will be able to devise ways to improve its efficiency, reduce C02 emissions and reduce the threat of fuel poverty.
But, beyond simply testing new types of insulation, double glazing and low-energy appliances, our unique cross-disciplinary approach to the study of energy will see psychologists, health experts and sociologists working alongside designers, engineers and scientists to devise sustainable solutions.
Our ground-breaking approach is a response to the sustainability challenge presented by the UK's ageing housing stock.
Almost three-quarters of current residential properties will still be inhabited in 2050 and 91% of all UK homes would benefit substantially from improvements in energy efficiency. Improved insulation and boiler upgrades alone could see heating emissions reduced by 22%.
The country's least efficient properties were predominantly constructed prior to 1920. These currently make up 15% of UK homes but actually account for 23% of total national C02 emissions.
Of these dwellings, more than two million, are the two-up, two-down terraced-style that the University will be studying closely.
One example of an early product that we have developed, in response to these challenges, is our Virtual Housing Suite.
This is a bespoke interactive virtual environment, which allows professionals from the public and private sectors to demonstrate virtually the effects of energy efficiency in buildings.
We will continue to provide updates over the coming months with progress on the house-build, and the exciting research we will be undertaking.
Stephen Waterworth, Energy Hub manager