Nepal's forests 'being stripped by Indian timber demand'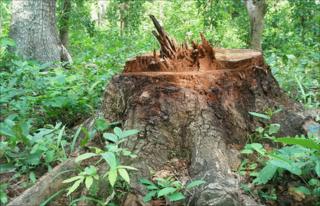 As India takes steps to protect its forests in the fight against climate change, timber smuggling from Nepal is on the rise, Nepalese conservationists and officials say.
They say this increase in smuggling is the result of growing demand for timber from the Indian market.
Their counterparts in Indian states that share an open border with Nepal agree the smuggling is taking place.
As Nepal faces massive deforestation, mainly because of corrupt bureaucracy fuelled by prolonged political instability, field investigations by the BBC in western Nepal have shown several routes being used to illegally transport logs across the border into Indian territories.
One of these unreported routes is through the waterways of the Mahakali river, which criss-crosses Nepalese and Indian lands in the western-most part of Nepal before merging with the Ganges.
Many eyewitnesses and officials in western Nepal's Kanchanpur district (which borders Uttarakhanda state in India) said they have seen timber logs being loaded into "tubes" made up of tractor-tyres before being transported downstream into India.
"Do you see the forests up there?" asked the chief of the Kanchanpur district forest office, Ramesh Chand, as he pointed to the nearby densely forested Chure mountain range overlooking the Mahakali river.
"Smugglers from both Nepal and India illegally cut down Sal trees from those forests.
"Then either they throw the logs down to the Mahakali or use a device made up of wire to bring them down to the river before they are uploaded on tubes and transported to India."
By truck or tractor
Locals at Bramhadev, in the Kanchanpur district, also confirmed that the smuggling of illegally felled trees was taking place.
"I was in those forests to perform religious rituals in two of the temples there for the last three days and I saw for myself many trees being felled and prepared to be smuggled out through the Mahakali [river]," said Chandradev Paitala, a local priest at the Kali temple at Bramhadev.
His neighbour Kishan Rambhool, a road construction worker, said he has come across many Indians who come to the Nepalese side - mostly at night-time - in order to transport the wood.
"Most of the time they come with the tubes and sometimes they even bring trucks and tractors to the nearest point across the Mahakali," he said, pointing to the river serving as the border between Nepal and India in this area.
But the district forest office chief Mr Chand said the smuggling would not have been possible without Nepalese involvement.
"There are Nepalese people who have illegally settled in those Sal forests up there, it is they who help Indian smugglers fell the trees and transport them downstream."
So what does his administration do about it?
"We have intensified our patrolling but the smugglers are active [during the night] and they wait for their chance, when there is no government official around," Mr Chand said.
In remote areas like this, patrols by security forces and by forest administration officials can be quite limited, or non-existent.
Timber smugglers also have a field day in Kailali, a neighbouring western Nepalese district bordering India's Uttar Pradesh state.
Locals in the villages of this district said several rural routes are being used to transport logs. They say they have repeatedly informed the local administration.
"Since the Indian border is barely one kilometre away from here, we frequently get to see timber being transported on tractors and bullock carts along this very road," said local pastor Ranajit Tamang, as we stood on the same dirt track at Chaunni Bazaar Village in Kailali district.
"We are told that such consignments are first taken to the Pillibhit and Lakhimpur districts of Uttar Pradesh [in India] using this route. Especially at night.
"Where do the timbers end up finally? We don't know."
Right under the noses of the administration, an entire forest has been visibly wiped out at Painsatthi Bigha, just next to the village of Pastor Tamang.
What used to be a dense forest until a year-and-a-half ago has been reduced to a grassland.
"We used to hear ear-piercing sounds of tree felling every night and the following morning we would see the trees were gone," said cattle herder Mundari Thapa, who spoke to me as her buffaloes grazed nearby.
Ms Thapa, who is in her 60s, added: "Then we could see nothing but forest all around and now there are no trees left. Everyone here says they have been taken to Nepal's urban areas and also to Indian markets."
Indian officials from across the border admit there are rural routes and waterways through which Nepalese timber is being smuggled into India.
"We do receive information on such smuggling and we are checking into it," the Principal Chief Conservator of Forests in Uttar Pradesh, DNS Suman, told the BBC.
"But it is not happening through recognised (major) roads, there may be dirt roads or small tracks through which they smuggle Nepalese timber into India using bullock carts.
"There are many such routes, as Uttar Pradesh shares nearly 800km of open border with Nepal."
While timber smuggling routes in western Nepal are usually limited to rural gravelled roads and waterways, in eastern Nepal even main roads and highways connected with India are used, officials said.
"We have confiscated many trucks and tractors laden with timber being taken to India from Nepal," Nepal's Forest Minsiter Deepak Bohara told the BBC.
"We do have information that that our timber is going to India illegally."
Indian forest officials across the border from eastern Nepal also confirm that this smuggling is taking place.
In the five months since he took over the job, Anjani Kumar Shah, who is the principal secretary of environment and forests for the administration of India's Bihar state, has seized three consignments of smuggled timber from Nepal.
"We do occasionally get such cases but, of late, security has been beefed up in the border areas. This is also because of the Maoist (rebels) problem," he said.
"I remember one of the smuggling cases, particularly because the other party (accused timber smugglers) was arguing that the timber we caught was not from India and was bought in Nepal and therefore they could not be prosecuted."
But Nepal's forest minister Mr Bohara said, "We do not give out licences for exporting timber to a third country."
Members of a Nepalese parliamentary investigation committee say they have found that, apart from domestic consumption, smuggling to India has also contributed to fast disappearing forests in Nepal.
"During this investigation we have found that timbers are indeed smuggled from some bordering Nepalese districts to India," said Ram Kumar Sharma, who was the co-ordinator of the committee until he resigned as a parliamentarian over a separate dispute recently.
Nepal seizures
Although his committee, along with the government, has no figures for this smuggling, they have found that the number trees felled in Nepal last year alone comprised nearly 10 million cubic feet of timber.
"And our calculations show that there has been corruption worth more than $200m for felling and selling of the trees illegally," Mr Sharma said.
The Forest Ministry's records show that it confiscated nearly 29,000 cubic feet of timber last year. Most of these seizures were in eastern Nepalese districts bordering on India.
Around 40% of Nepal's total area is forest.
Figures quoted by the Indian Environment and Forests Ministry show that Indians consume 64 million cubic metres of timber and 201 million tonnes of wood annually.
"Because of huge restrictions and control over the (buying and selling of Indian) timber, it becomes some sort of hinterland and all the wood (from outside) fetches a good price in the Indian market," said Mr Suman, the Principal Chief Conservator of Forests in Uttar Pradesh.
"This is one factor for timbers coming into India from Nepal."
Nepalese conservationists and forest officials say they are worried about Nepalese forests coming under pressure following India's strengthening of its forest conservation in the last few years.
"If things continue as they are, there will be a siphon-effect, with India trying to use Nepal's forest resources while Indian forest areas expand significantly, which is already happening," says Nepal's former forest secretary Uday Sharma.
"It is good to see Indian forests growing and we cannot ask them to stop that but the trouble is that politically unstable Nepal is seeing its forest coverage plummeting at the same time."
Such concerns are further fuelled by the Indian government's recently announced Green India Mission, one of the eight national missions under the country's National Action Plan on Climate Change.
The GIM's objective is to double India's afforested and eco-restored area from the earlier target of 10 million hectares in the next 10 years.
"We do recognise the threat that our forest resources could come under huge pressure," says Nepalese Forest Minister Mr Bohara.
But given the deepening political chaos after a decade long Maoist insurgency, there is not much Nepalese politicians seem to be able to do.