How much does the UK need foreign scientists?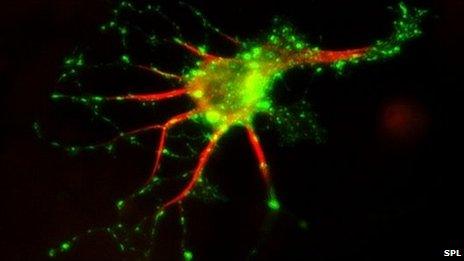 Some 10.5% of UK academics come from outside the country - so why the consternation about an immigration cap having a negative impact on British science?
That approximate figure comes from the Campaign for Science and Engineering (CaSE), a non-profit organisation that promotes science and engineering research in the UK.
But the eight Nobel Prize-winners who wrote a letter published in the Times - in which they warned that the migration cap would deprive UK science of talent - would appear to think there is more to the issue than plain statistics.
They say that by limiting the number of foreign researchers coming into the country, the UK would also undermine the global free exchange of scientific ideas.
And this exchange is "absolutely crucial for our work and for scientific work in general", Konstantin Novoselov, who shared this year's Nobel Prize in physics for the invention of graphene, told BBC News.
"We are extremely happy with our home students, but we really rely on the information, knowledge and skills which are brought by students who have been working in other leading institutions across the world," said Professor Novoselov.
Just like the second recipient of the prize, Andre Geim, Professor Novoselov was born in Russia, but for the last several years has been working at the University of Manchester.
But he said that he received the Nobel Prize mainly thanks to international collaboration - something that is vital in science.
"I am of Russian origin and I've been on all the news in Russia, trying to explain to the people there that it is not a Russian Prize and it is not even a British Prize, but it's [thanks to] a huge international group which has been working together on this project," he stressed.
"And it would be very sad if in a few years' time we'd have to explain the exact same thing here, in this country as well."
The 10.5% of foreign academics in Britain's universities mainly come from USA, China, India, Australia and Canada, according to CaSE.
But even among Nobel laureates, five out of six recepients based at British universities since 2007 were from outside the UK.
Of the three scientists who were working in the UK when they discovered the structure of DNA - and shared a Nobel Prize for it - only Francis Crick was British. James Watson is American and Maurice Wilkins was from New Zealand.
And according to CaSE, nearly 40% of the UK's scientific output was involved in international collaborations in the past several years.
"If international researchers have difficulty coming to the UK to work or for short visits, then it will be hard for UK-based researchers to work overseas and to build up the relationships underlying many important international collaborations," the group said in a statement.
The same figure is mentioned in the letter, signed by the Nobel Prize winners.
Hilary Leevers, assistant director at CaSE, told BBC News that this global traffic of scientific minds was extremely important for the UK.
"You want the best in the world - but it is also [important] because people who are coming from abroad are bringing their own skills, which are inherent to being from overseas," she said.
"They bring their own networks, they bring a different perspective and they bring access to new markets.
"We live in a really global world. And to cut ourselves off from that would be so detrimental."
Dr Leevers said she was positive the UK government would listen to the scientific community's outcry regarding the immigration cap and take necessary measures.
"There is such a consensus in this matter that we're really optimistic that the Home Office will listen to the things like this letter, but also to the many other articles, that if they bring in this cap on non-EU economic migrants, it is really important that they make sure that scientists and engineers can still enter the country and indeed feel welcome to do so."
Professor Novoselov said that foreign scientists enjoyed coming to the UK "because the scientific culture [here] is so open, it is so easy to get integrated here.
"And it would be really sad if this culture was lost."