Row over shipping emissions plan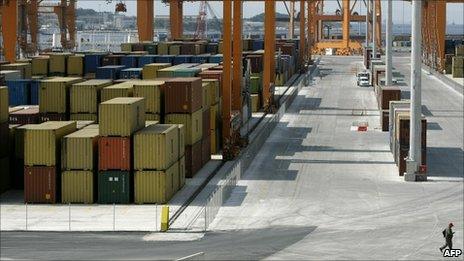 Environmentalists at the UN climate talks in Tianjin have criticised big developing nations for blocking plans for efficiency standards on shipping.
Shipping produces about 3% of global emissions - more than the UK or Germany.
And the International Maritime Organisation is trying to stop "dirty" ships being built.
It is believed the scheme would benefit ship owners everywhere by reducing fuel consumption in the long term.
But China's delegate at the meeting in Tianjin said he could not support the plan because it imposed uniform standards on rich and poor alike - contrary to the spirit of UN climate negotiations.
Hongwei Wang from China's Transport Department, said that China wanted to co-operate on improving shipping, but that rich countries needed to help poor countries pay for better ships.
This is indeed being discussed as part of another proposal at the IMO.
The next IMO meeting in March will discuss ways in which ships run by rich nations can cross-subsidise improvements by ships in poor nations - perhaps from a levy on CO2 emissions from all ships, or maybe just on ships not meeting the proposed efficiency standards.
Emissions trading schemes are another option, as are schemes based on ships' design and efficiency of operations. Savings of up to 20% of fuel and emissions may be achievable by measures including optimising routes and sailing more slowly with non-urgent cargoes.
Environmentalists are frustrated that the IMO efficiency proposals are being blocked.
"It's essential that shipping is included in any deal on climate change as emissions from shipping are projected to grow much farther," said Kaisa Kosonen from Greenpeace International.
But the green groups have some sympathy with China. They generally believe the US is far more to blame for the ongoing deadlock in the climate talks, despite an effort by the UK and US to paint China as the villains of Copenhagen.
Tim Gore, Oxfam's campaigner in Tianjin, held out a hope that the shipping talks would eventually produce results. "Progress might be slow - but it does look as though governments are taking the role of shipping seriously at last," he said.
Shipping was excluded from the original Kyoto climate treaty in 1997 because, like aviation, it presented too knotty a problem for anyone trying to ascribe "ownership" of the emissions. Like aviation, it was left to regulate itself. And, observers say, like aviation it has done little until recently.
The shipping industry has previously been defensive about its emissions. It points out that for shifting cargo, boats are 80-100 times more efficient than planes.
Environmentalists say this has made the industry complacent about the potential for improvements which could benefit ships' owners in long-term fuel savings, so long as standards were uniformly imposed to prevent cut-throat short-term competition.
Related Internet Links
The BBC is not responsible for the content of external sites.