Bumblebees prefer stripes and red flowers, research suggests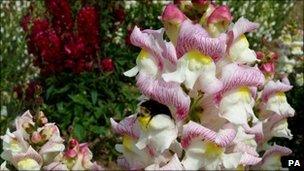 Gardeners are being encouraged to grow striped flowers to encourage bumblebee populations, after research suggested the insects are most attracted to them.
Stripes on petal veins direct bumblebees to the flower's "central landing platform" and entrance to gather nectar and pollen.
Researchers also found that red flowers were also attractive to bees.
Bees play a key role in agriculture by pollinating crops.
The scientists say that growing especially inviting plants could be a way for people to help stem what has been called a "catastrophic" decline in UK bumblebee populations.
The research was to understand how pollinator decline can been halted, as a reduction in numbers can be "economically damaging and risks our food security", scientists say.
Professor Cathie Martin from John Innes Centre in Norwich said red and striped flowers were visited significantly more frequently than white or pink blooms. More flowers were visited per plant as well, she said.
Researchers from New Zealand also analysed how the stripy patterns were formed along the veins of the common snapdragon.
"Complex colour patterns such as spots and stripes are common in nature but the way they are formed is poorly understood," said Dr Kathy Schwinn of the New Zealand Institute for Plant and Food Research.
"We found that one signal comes from the veins of the petals and one from the skin of the petals, the epidermis. Where these signals intersect, the production of red anthocyanin pigments is induced."
Anthocyanins are plant pigments which colour red, purple and blue fruits and flowers.
Related Internet Links
The BBC is not responsible for the content of external sites.