Background noise affects taste of foods, research shows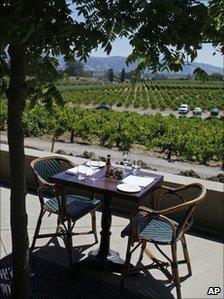 The level of background noise affects both the intensity of flavour and the perceived crunchiness of foods, researchers have found.
Blindfolded diners assessed the sweetness, saltiness, and crunchiness, as well as overall flavour, of foods as they were played white noise.
While louder noise reduced the reported sweetness or saltiness, it increased the measure of crunch.
It may go some way to explaining why airline food is notoriously bland - a phenomenon that drives airline catering companies to heavily season their foods.
"There's a general opinion that aeroplane foods aren't fantastic," said Andy Woods, a researcher from Unilever's laboratories and the University of Manchester.
"I'm sure airlines do their best - and given that, we wondered if there are other reasons why the food would not be so good. One thought was perhaps the background noise has some impact," he told BBC News.
"Nasa gives their space explorers very strong-tasting foods, because for some reason thay can't taste food that strongly - again, perhaps it's the background noise.
"There was no previous research on this, so we went about seeing if the hunch was correct."
In a comparatively small study, 48 participants were fed sweet foods such as biscuits or salty ones such as crisps, while listening to silence or noise through headphones.
Meanwhile they rated the intensity of the flavours and of their liking.
In noisier settings, foods were rated less salty or sweet than they were in the absence of background noise, but were rated to be more crunchy.
"The evidence points to this effect being down to where your attention lies - if the background noise is loud it might draw your attention to that, away from the food," Dr Woods said.
"We are still at an early stage of proceedings and this is a relatively small study to really draw definitive conclusions from," he said, "but they suggest that the retail sector could well tailor their choice of food for a given environment."
Also in the group's findings there is the suggestion that the overall satisfaction with the food aligned with the degree to which diners liked what they were hearing - a finding the researchers are pursuing in further experiments.
Related Internet Links
The BBC is not responsible for the content of external sites.