Scientists call for defence cuts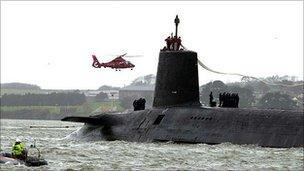 A group of scientists has called for cuts to public spending on science to come from military research.
Thirty-five senior scientists have said in a letter to the Guardian newspaper that the £2bn spent each year by the Ministry of Defence (MoD) to develop nuclear warheads is "disproportionate".
They say this especially applies at a time when deep cuts to civil science are being considered by the government.
The letter has been co-ordinated by Scientists for Global Responsibility.
It was published as a new report from Research Councils UK, the body that distributes civil science funding, warned that a reduction in its expenditure of £1bn could result in a £10bn fall in UK GDP as a result of lost synergies between the public and private sectors.
The Scientists for Global Responsibility group campaigns for arms reduction.
Among the signatories are Nobel Laureate, Sir Harry Kroto, the mathematician Sir Michael Atiyah and the professor of natural history Aubrey Manning.
They say: "World-class research is under threat, while the government continues to fund the multi-billion-pound research programme at the Atomic Weapons Establishment (AWE) at Aldermaston."
The director of Scientists for Global Responsibility, Stuart Parkinson, said that spending on the AWE was not properly planned.
"This year it received an additional £1bn, to build new technical facilities when the question of whether the UK will build a new nuclear warhead design is up now in the air. That can't make sense," Dr Parkinson commented.
Total government spending on research and development is approximately £8bn a year. Of that, a quarter is spent by the MoD. The scientists said "overall we believe that any cuts to public science spending should predominantly come from cuts to the MoD's R&D".
The researchers also say that the successor to the Trident nuclear defence system should be scrapped.
But according to Imran Khan, director of the Campaign for Science and Engineering (Case), the scientists are wrong to think that cuts in military R&D will necessarily mean more money for civil research.
"It's not the case that there's a science grant that gets split into military and civilian investment," Mr Khan said.
"Military research comes from the MoD's budget, and as a department they decide how much they want to invest in science and engineering."
An MoD spokesman said: "Military research and development directly supports our troops in Afghanistan by providing battle-winning technologies which are saving lives on the frontline.
"There is much cross-over between defence and civilian research, with microwave ovens, infra-red devices and liquid crystal displays all starting as defence projects.
"A value-for-money review on replacing the UK's nuclear deterrent is being undertaken, but the government remains committed to maintaining the UK's minimum and credible submarine-based nuclear-deterrent, based on the Trident missile system."
Related Internet Links
The BBC is not responsible for the content of external sites.