China wakes up to biodiversity threat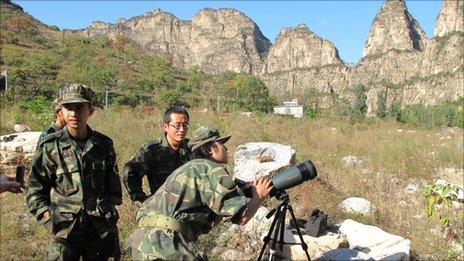 China's diverse wildlife is being defended by a few as the country continues its rapid economic expansion.
Li Li has the look of a guerrilla commander. He wears military fatigues and leads a band of a dozen or so activists.
The 28-year-old is the head of the Panther Protection of Wildlife Organisation. He is a green warrior and has the zeal of a convert. Li Li himself was once a poacher.
During his teens, he caught wild birds so he could paint their likeness on canvas.
But most of the creatures died. His guilt over this drove him to create his organisation.
"I'm an artist," he tells me. "But I didn't want to see the birds that I paint die."
"Nature inspires me and I want to protect it as much as I can."
Li Li uses the proceeds of his paintings to fund his organisation, and he has taken it upon himself to police a group of villages an hour's drive from Beijing.
Driving in a black jeep, the activist suddenly stops the vehicle, jumps out, and runs across a cabbage patch shouting at a woman.
She had put a net on her cabbages to stop birds eating the vegetables, but apparently she had done it in a fashion that would snare the birds, possibly causing them to die.
Li Li says his only motivation is to preserve the richness of China's countryside - and it needs all the help it can get.
This country's economy has seen remarkable growth in the last decade and it is on track to become the world's second largest economy by the end of the year.
But that economic development has come at a high cost as the country is now the world's biggest polluter.
According to a World Bank report in 2007, 20 of the world's 30 most polluted cities were in China.
The country's rich biodiversity - about 10% of the world's - is increasingly under threat.
"What we've seen in the last 30 years thanks to economic development has been a massive erosion of habitats and pressure on the species used in traditional Chinese medicine," says Jonathan Watts, author of the book, When a Billion Chinese Jump.
"By some estimates that species loss in China is 50-100% higher than the global average.
"The amount of loss of here is enormous and could easily get worse unless radical action is taken."
But China is beginning to wake up to the problem. It is a crisis that the country cannot ignore.
Campaigns are being launched across the country, persuading people to become greener.
The country is the world's leader in terms of clean energy. Every hour, a new wind turbine is erected, according to a new Greenpeace report.
And Chinese companies are leading the way in green technology, such as the development of electrical cars.
The government believes it needs to find a balance between economic growth and conserving the environment.
"I think the situation here is better than five years ago," says Xi Yan, the director of the Wildlife Conservation Society in China.
"It shows that economic development doesn't need to be destructive."
Back with the Panther Organisation, Li Li and his team have sent up a telescope to check on the nest of a black stork located on a high cliff.
The birds are incredibly rare, and Li Li says there are only about 2,000 of them left in the world.
If they were to become extinct, he says he would be devastated.
"But I would continue my work," he adds "Because it would then become even more important."
China's economy may be booming, but the country's environment continues to pay an enormous price for its economic growth.
Related Internet Links
The BBC is not responsible for the content of external sites.