Best loved wines at risk from climate change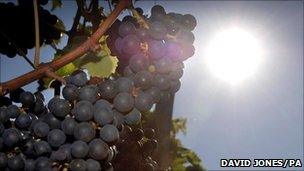 Cava growers are battling to keep the wine's fizz, Burgundy is struggling with pinot noir grapes that ripen more quickly, and Argentina and Chile are moving wine production higher into the cool Andes - as climate change threatens the world's wines.
Around the world, growing numbers of winemakers believe that climate change can already be detected in the glass, and fear that the industry needs to adapt, or die.
Grape vines, much more than wheat or rice, are sensitive to temperature and even incremental changes in climate.
The growth rate and quality of the grape can be affected, says Greg Jones, a winemaker and professor of environmental studies at Southern Oregon University.
"If you look at one individual variety of grape, it may only have a few degrees in which it's ideal,"
In Spain, the makers of sparkling Cava in Penedes have struggled to control alcohol and acidity levels, and to retain nitrogen levels crucial to the wine's fizzy quality.
Meanwhile, 300 kilometres to the west, Rioja has enjoyed a string of fine vintages.
"The slight increase in average temperatures has actually benefited some of the areas of Rioja," says Pancho Campo of the Wine Academy of Spain.
The Tempranillo grape from which the wine is produced "can achieve perfect ripeness," in the warmer conditions he says.
But while Rioja is thriving, Mr Campo warns that this will be a "very short golden age" if climate change is not combated.
"Temperatures will continue to rise, and the question is how far they are going to go and how long is this period of benefit going to last. That's my biggest concern," he says.
In Germany, winemakers are also starting to question the long-term effects of higher temperatures.
"It's now easy to get decent ripeness, but it definitely doesn't bring the quality to the wine," says Florian Busch, a Riesling grower in the Mosel Valley.
"Since 2004 we've had the black rot fungus, which used to live just in more southerly regions.
"Something is happening. Something is coming from the south," he says.
Fellow Mosel winemaker, Ernst Loosen, also fears that changing weather patterns will cause long term damage.
"We get extreme thunderstorms. We get water in three hours that we used to get in one week."
Changes may be detectable throughout the winemaking world, but it is France that has the most to lose, where wine is the leading export earner, employing around 200,000 people.
Anaiz Parfait, author of a Greenpeace report on the wine industry, believes that the country's rich wine heritage is under genuine and immediate threat.
In Burgundy, "the date of harvest is getting sooner and sooner," she says, leading to wines with "excess sugar and acidity defects."
She is particularly concerned about one notoriously fussy grape that is vital to the region.
"Pinot Noir is already experiencing difficulties to adapt its traditional [territory] to produce fine and elegant wines."
In Australia, winemakers have adapted production to cater for the intense heat and droughts.
"Overhead sprinklers [are used] at night to give the grapes some respite from the heat," explains Stuart McNab, director of wine production for Treasury Wine Estates in Australia and New Zealand.
He says you can continue to produce quality wine by "adapting how you manage the canopies of the grapevine."
If temperatures continue to rise and droughts persist, production could be moved to cooler, more southerly areas, such as Tasmania and New Zealand.
But this "latitude of adaptation" is not an advantage shared with the classic regions of Europe.
Regulations in France tightly restrict vineyard locations and grape varieties for the most renowned wines.
A great Burgundy estate can not simply shift itself 200 kilometres north, or replace its cool climate Pinot Noir grapes with warmth-loving Tempranillo.
Winemaker and climatologist Professor Greg Jones believes that rules will need to be relaxed, but in the meantime, this could leave space for northern countries to move into the fine wine business.
"Are there going to be great classic cabernets made 50 years from now?" Prof Jones asks himself.
"Yes, there will," he says, "but they're likely to be from different places if our projections of climate are realised."
England is already producing sparkling wines that compete successfully with the finest champagnes in competitions such as the International Wine Challenge.
According to veteran wine critic Hugh Johnson, English winemakers are "getting the fruit they really need at just the right degree of ripeness".
"The next thing that's likely to happen is that the champagne growers themselves will start buying land in the south of England," he says.
So prepare for the finest wines from Bognor, not Bordeaux, St Albans rather than Saint-Emilion, and Rotherham rather than Rioja.
Related Internet Links
The BBC is not responsible for the content of external sites.