Nature panel under threat as nations wrangle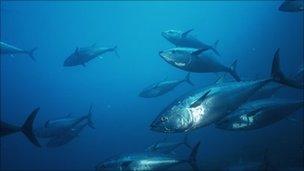 Political wrangling threatens to derail plans to establish a global science panel to assess the loss of nature.
Governments agreed earlier this to set up the Intergovernmental Platform on Biodiversity and Ecosystem Services.
But moves being made at the Convention on Biological Diversity (CBD) meeting here threaten to block ratification by the UN General Assembly.
Conservation groups believe IPBES could prove essential in persuading leaders to ramp up measures to protect nature.
Proponents, including many governments, believe it can play the same role for biodiversity as the Intergovernmental Panel on Climate Change (IPCC) has played in that field - taking authoritative analyses of relevant science directly to policymakers.
"The IPCC has become the go-to organisation for state-of-the-art knowledge on climate change," said Neville Ash, head of the Ecosystem Managament Programme with the International Union for the Conservation of Nature (IUCN).
"You could envisage IPBES becoming the same kind of body for the Convention on Biological Diversity, for governments, and beyond governments - the go-to source of information on biodiversity and ecosystem services."
Government delegates here at the CBD meeting are divided on a number of issues, and some - particularly from the developing world - are insisting on an all-or-nothing approach to negotiations.
The draft outcome "welcomes" the IPBES. But in the absence of an agreement here - an outcome that looks eminently possible - the signal that it wants the new panel will not come from the CBD.
"The CBD meeting does not have a say over the fate of IPBES formally, because that's the responsibility of the UN General Assembly," said Anne Larigauderie, executive director of the biodiversity policy organisation Diversitas, who has been closely involved in discussions on setting up IPBES.
"But it's extremely important, of course, that the meeting comes to an agreement in support of IPBES, because IPBES is precisely to improve the functioning of this convention by making it more science-based," she told BBC News.
The South Korean government, which hosted the meeting at which the decision to establish IPBES was made earlier this year, is strongly behind the new panel, and wants approval reached at this year's General Assembly.
"If we lose this momentum... we will give much damage to our achievement during this year," said Kim Chanwoo, director-general of South Korea's Environment Ministry.
A number of developing countries have reportedly said they will not sign IPBES into being at the UNGA unless there is a deal here.
Sticking to that position will effectively make establishment of the panel conditional on western nations agreeing to provide substantially more funding for biodiversity than currently, and agreeing to developing country demands on financial returns from the exploitation of natural genetic resources - a component of the negotiations known as Access and Benefit Sharing (ABS).
Mr Kim told BBC News that the issues should not be linked in this way.
"IPBES has been politicised; but in fact it is is not a stumbling block to ABS, it would give more benefits under ABS... (and) this gives a negative signal because it is detrimental to conservation and sustainable use [of nature]."
Mr Kim said that if no endorsement came here, his government would continue working to secure ratification for IPBES before the current UNGA session ends.
If that does not work, suggested Dr Larigauderie, approving IPBES could prove very difficult.
"If everything fails and there is no agreement at the UNGA, there is a feeling in the community that the process may be jeopardised," she said.
"Right now, there are many stars lined up - the International Year of Biodiversity, COP-10 (this CBD meeting) - and if at the end of the year we are not able to agree, attention may go to other issues, the door may close on biodiversity and it may not open for a while."
Failure to establish IPBES would, by the UN's analysis, leave a big gap between science and policymaking.
Data on damage to biodiversity and ecosystems - and what that implies for economies and human society - would not be collated so thoroughly, and would not be presented to governments in a way designed to maximise the chances of them acting on it.
"Gathering data on the socio-economic component of biodiversity science is priority number one," said Neville Ash.
"Everyone is looking at IPBES and hoping it will bring the necessary resources and willingness to tackle this issue."
Related Internet Links
The BBC is not responsible for the content of external sites.