New species of bacteria found in Titanic 'rusticles'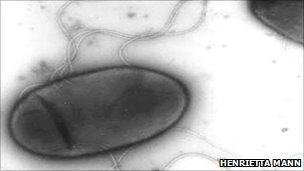 A never-before-seen microbe has been found in the wreck of RMS Titanic.
The Halomonas titanicae bacterium was found in "rusticles", the porous and delicate icicle-like structures that form on rusting iron.
Various bacteria and fungi live within the delicate structures - first identified on the Titanic - actually feeding off the rusting metal.
Samples of rusticles from Titanic were gathered in 1991 by the Mir 2 robotic submersible.
Researchers from Dalhousie University and the Ontario Science Centre in Canada and the University of Seville in Spain isolated the H. titanicae bacteria from those samples.
They sequenced the microbes' DNA before discovering that they constituted a new member of the salt-loving Halomonas genus.
The bacteria are of particular interest because they may shed light on the mechanism by which rusticles form, and thus on the general "recycling" that such microbes carry out on submerged metal structures.
That, the authors point out, has relevance also to the protection of offshore oil and gas pipelines, and the safe disposal at sea of ships and oil rigs.
Related Internet Links
The BBC is not responsible for the content of external sites.