SpaceX Dragon capsule set for launch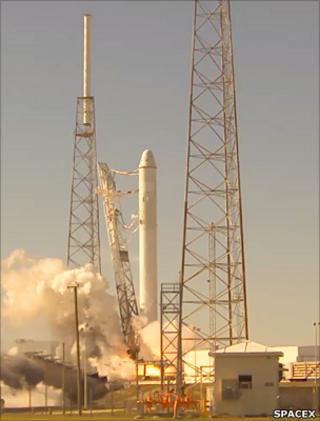 A US capsule that could soon be hauling cargo and even astronauts to the space station is set to make its first demonstration flight on Wednesday.
The Dragon ship will be launched from Florida on a Falcon 9 rocket, with the aim of entering a circular orbit some 300km above the planet.
After completing a number of manoeuvres in space, the capsule will then target a splashdown in the Pacific.
Dragon and Falcon 9 are both products of California's SpaceX company.
It has a $1.6bn (£1bn) contract with the US space agency (Nasa) to provide 12 spacecraft with cargo capacity of at least 20 tonnes to resupply the International Space Station (ISS) through to 2016.
The initiative is part of a much wider American policy to place the carriage of freight and crew transport to the ISS in the hands of the private sector.
The launch window for Wednesday's mission opens at 0900 EST (1400 GMT) and runs for three hours and 22 minutes.
This will be the first of three test outings intended to prove SpaceX's systems work as designed. Dragon will not be allowed near the space station until it can be shown the capsule is safe.
Company and Nasa officials have tried to play down expectations ahead of the mission, reminding the media that the complexity of space ventures often results in early mishaps as engineers get to grips with the new technologies.
Although the Falcon 9 rocket has flown successfully once before, SpaceX president Gwynne Shotwell said she was all too aware that difficulties could yet lie ahead for the programme.
"History would say that we're going to have a substantial issue in one of the first three flights. That's just empirical; it's nothing to do with our process or our hopes," she told reporters.
And Phil McAlister, acting director of commercial space flight development at Nasa, added: "I want to emphasise this is a test flight. It is not in any way an indictment for or against the overall programme if you have anomalies.
"We expect anomalies, and again the purpose of the test flight is to learn. So as long as we're learning and we have a clear path for demonstration flight two, we would consider that successful."
If all goes to plan, Wednesday's mission will last about three and a half hours.
Following lift-off from the Canaveral Air Force Station, the Falcon 9 will head for an orbit that is inclined 34.5 degrees from the equator.
The Dragon capsule should separate from the rocket's upper stage nine minutes and 35 seconds into the flight.
The vessel is then expected to complete almost two orbits of the Earth while demonstrating its onboard systems.
A de-orbit burn should bring Dragon back down through the atmosphere and a controlled splashdown via the assistance of three parachutes in ocean waters roughly 800km west of the coast of Mexico.
US President Barack Obama hopes the private sector can help fill the gap left by the retirement next year of the space shuttle fleet.
He envisages commercial ships ferrying astronauts and supplies to low-Earth orbit destinations like the ISS, while Nasa concentrates on developing a much more capable rocket and spaceship to venture out into the Solar System.
Dragon's demonstration flight has been organised under the Commercial Orbital Transportation Services (Cots) programme, which sees Nasa seed SpaceX with funds to help it deliver a serviceable system.
"In our programme we measure progress and success by incremental milestones," explained Alan Lindenmoyer, the manager of Nasa's Commercial Crew and Cargo Programme.
"We laid out a series of 22 milestones over the term of the agreement, for a maximum payment of up to $278m; and we have paid SpaceX $253m for the 17 milestones they've completed to date. They have five left."
SpaceX says it has so far spent in excess of $600m on Falcon and Dragon.
The Orbital Sciences Corporation of Virginia has an ISS re-supply contract similar to SpaceX's. Its Taurus rocket and Cygnus freighter are expected to fly for the first time next year.
Nasa has not yet issued contracts for commercial crew transport, although it has made awards to companies to help with the development of systems, such as life support technologies, which might go in private astronaut "taxis".
SpaceX believes it could have its Dragon capsule ready to carry people within three years of being asked to make the conversion.
"Ideally we would like to have routine cost-effective space transportation services to low-Earth orbit by 2020. That's the goal; that's something we've been talking about in the space community for years and I believe this commercial crew programme is the next step to making that possible," said Mr McAlister.
Jonathan.Amos-INTERNET@bbc.co.uk