Chris Huhne to stay in Mexico for UN climate talks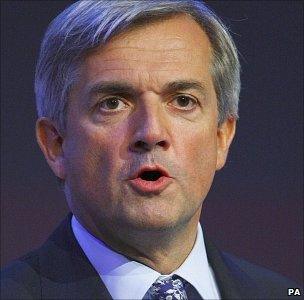 UK Energy Secretary Chris Huhne will not fly back to London from the UN climate summit for a vote on student tuition fees.
Campaigners had warned the move could damage the process, as Mr Huhne has been tasked with brokering a compromise on the troubled Kyoto Protocol.
Lib Dem Mr Huhne said he and his party leader Nick Clegg had decided he had to stay to finish the "vital work".
However, Conservative minister Greg Barker will return for the vote.
In a statement on Wednesday, Mr Huhne said his party leader and Deputy Prime Minister, Nick Clegg, agreed that it was important for him to remain in Mexico to "finish the vital work we have started".
He attacked Labour for apparently refusing to agree to a deal in which one of their MPs would also sit out the vote - to cancel out Mr Huhne's absence.
"It is hugely regrettable that Ed Miliband's Labour Party has decided to put short-term political point scoring ahead of the long-term interests of the planet," Mr Huhne said.
"They are putting the next two days ahead of the next two generations."
Mr Huhne, as a Lib Dem minister, was expected to have voted for the controversial plan to raise the cap on tuition fees at English universities, an issue which has proved divisive for his party.
However one of his fellow Lib Dem MPs, Martin Horwood, will also remain in Cancun - he was expected to vote against the government on Thursday.
Earlier Meg Hillier, Labour's shadow energy and climate secretary, responded to criticism from campaigners by saying it was the government's decision to hold the tuition fees vote on Thursday.
"It is a shame that Britain might be without a representative at the climate change talks because the coalition insist on rushing through legislation that is not fair, not necessary and not good for higher education," she said.
Responding to the news that the UK minister would not have to return to London, Greenpeace UK director John Sauven said Mr Huhne had a vital role to play in moving the talks forward.
"With the outcome of the Cancun summit now hanging in the balance, attention must now focus on whether he can help to broker a climate deal," he stated.
However, in a speech during one of the plenary sessions at the conference, Mr Huhne turned his attention away from party politics in Westminster to the global issue of climate change.
He told delegates that a "car crash of a summit" was in no-one's interest.
"The answer has to be compromise," Mr Huhne urged.
"We cannot do everything here but we can make progress on mitigation, deforestation, adaptation, finance, reporting and more. And restore momentum to the global process - concrete steps to the treaty we want."
He added: "We believe that the future of the Kyoto Protocol is vital to the success of this process."
Mr Huhne, together with Brazil's environment minister Izabella Teixeira, were asked by the Mexican host government to find compromise ground over the Kyoto Protocol.
Japan said at the start of this meeting that it will not accept further emission cuts under the protocol. Their opposition is backed by Canada and Russia.
But developing countries are adamant that the protocol must continue.
It is seen as one of the key issues that must be resolved if there is to be any prospect of securing a new global climate deal.
As the ministerial segment of this summit opened on Tuesday, the UN's top climate official Christiana Figueres had declared that time was running out for a deal.
"The political stakes are high because the effectiveness and credibility of your intergovernmental, multilateral process are in danger," she said.
"And the environmental stakes are high because we are quickly running out of time to safeguard our future.
"Tuvalu, The Maldives, Kiribati, Vanuatu are looking for ways of evacuating their entire populations because of salt water intrusion and sea level rise; their fate is a wake-up call to all of us."
Earlier, the UN Environment Programme (Unep) formally presented delegates with the results of a study published two weeks ago, showing that pledges on the table for curbing emissions will not be enough to keep the global average temperature rise below the levels that most governments say they want.
The vast majority of countries want to keep the rise within either 1.5C or 2C since pre-industrial times.
Lou Leonard from WWF was one of many environment campaigners emphasising that the agreement coming out of Cancun must allow for countries to increase their pledges, to close this gap.
"They say they want 2C, the pledges don't get to 2C - it's like the emperor has no clothes," he said.
The future of the Kyoto Protocol is just one of the issues dividing countries.
To facilitate compromise, the Mexican hosts have asked five pairs of ministers - one from a developing country, one from a developed - to explore particularly difficult areas.
They span emission cuts, adaptation to climate impacts, and the transfer of technology and money from rich to poor.
Mr Huhne agreed that the stakes were high; without movement here, he suggested, some governments would downgrade the importance they placed on the UN convention and its potential to deliver a meaningful climate pact.
Related Internet Links
The BBC is not responsible for the content of external sites.