Tough carbon cuts 'key' to climate funding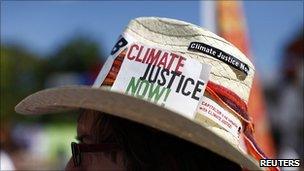 Rich nations must cut carbon emissions further in order to raise $100bn (£60bn) per year needed to help poorer nations deal with climate change, Norway's prime minister has said.
Jens Stoltenberg led a UN-commissioned task force that explored ways to raise the sum, agreed by most nations at the Copenhagen summit as a target for 2020.
Current emission targets will not raise the sums necessary, he told BBC News.
Many developing countries maintain the $100bn figure is not large enough.
The group - chaired by Mr Stoltenberg and Ethiopia's Prime Minister Meles Zenawi and called the High-level Advisory Group on Climate Change Financing - was commissioned by UN Secretary-General Ban Ki-moon to find ways of raising the money, given that public funding on this scale was unlikely to materialise.
It set out several possible ways of raising the money - through taxation on international shipping and aviation, a banking tax, increased funding from regional development banks, and increased use of the public purse.
But key, they suggested, would be revenue from the carbon market - from auctioning emissions permits, and from a levy on transactions.
"Carbon pricing has a double climate effect - it's a huge source for revenue, but also gives the right incentives for reducing emissions by making it expensive to pollute," Mr Stoltenberg told BBC News.
"The more ambitious we are, the higher the price will be - so there's a very close link between the ceiling we set for emissions and the price.
"We estimate that we need a price of about $20/25 per tonne to mobilise the $100bn."
Currently, where carbon is being traded - principally in the EU - the price has generally been lower.
"So we have to increase ambitions to reach the goal," Mr Stoltenberg concluded.
All of the finance mechanisms proposed in the report, including levies on carbon trading, would also require political agreement across the world.
While some richer countries object to a tax on banking transactions, developing countries - particularly small island states - do not want to see levies raised on shipping and aviation.
Island nations depend on ships for trade, and often on aeroplanes for tourism - and say that taxing these activities would harm them economically, when UN climate agreements make it clear that funds should come from the rich world.
At the report's presentation, Mr Ban observed: "It is important to do the right thing for those who did least to cause this climate change phenomenon".
One of the outcomes of this summit could be formal agreement to set up a "Green Fund" that could start raising this money.
But nations disagree about how far and how fast they want the process to go.
Sources close to the negotiations say a number of western countries - notably the US and Canada - are blocking progress, arguing only that a fund should be established here and leaving details for the future.
Vulnerable countries, on the other hand, want to see the fund not only established but operational as soon as possible.
Helen Clark, head of the UN Development Programme and ex-prime minister of New Zealand, sympathised with these nations.
"People back home in Tuvalu or the Maldives who are experiencing the effects of climate change in the here and now do feel very very frustrated when they don't see progress," she said.
"They say 'this is about our lives, why aren't people more exercised about this?'
"With climate finance likely to be the largest new source of finance for developing countries, getting that finance to work... in a way that supports development becomes absolutely critical."
But within the large bloc of developing countries, there are stark differences of approach.
Some want much bigger sums to be committed - $800bn per year, for example - of which all should come from western nations' public purse, with no recourse to carbon markets, largely as recompense for the climate impacts caused by the historical emissions on which the west grew rich.
Others dismiss this as completely unfeasible, and are keen to expedite whatever the West has to offer.
But there is evidence that the £100bn sum is too low.
Both of those reports said the money would be needed from 2010, not 2020.
Agreement at least on the outlines of a financial settlement is one of the prerequisites for an agreement here.
However, with just two days of negotiations left, it is far from clear whether an agreement can be reached.
Related Internet Links
The BBC is not responsible for the content of external sites.