Japan targeted on Kyoto climate stance at Cancun Summit
By Richard Black
Environment correspondent, BBC News, Cancun, Mexico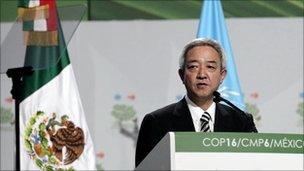 As this year's UN climate summit nears its end, nations looking for a new deal have launched a diplomatic assault on Japan in the hope of softening its resistance to the Kyoto Protocol.
As many as 20 world leaders are in line to phone Prime Minister Naoto Kan to ask for a change of stance.
Japan's position is seen as the single biggest barrier to reaching a deal.
Agreement here is seen as crucial to hopes of securing a comprehensive new climate treaty in the next few years.
Together with Russia and Canada, Japan is adamant it will not accept future cuts in carbon emissions under the 13-year-old Kyoto agreement.
But many developing countries are equally determined that the protocol must continue.
Meanwhile, some Latin American nations want the most radical country in their bloc, Bolivia, to show more flexibility in negotiations.
Costa Rica said the Bolivians were delaying progress on key issues.
But Bolivian President Evo Morales confirmed his status as the darling of the conference with a rousing speech punctuated by several rounds of applause and cheers.
"We came to Cancun to save nature, forests, planet Earth," he said.
"We are not here to convert nature into a commodity; we have not come here to revitalise capitalism with carbon markets.
"The climate crisis is one of the crises of capitalism."
Despite having hosted the 1997 UN climate meeting that saw the Kyoto Protocol signed, Japan has for many months been saying it will not accept further emission cuts under the agreement.
It is joined in its opposition by Russia, Canada and Turkey in public - and by other developed nations in private.
But for many developing countries - including Bolivia - continuing the protocol is mandatory. They like its legally-binding character, and the fact that it generates funds for clean development in poorer nations.
"If we throw the Kyoto Protocol in the rubbish bin, we will be guilty of ecocide and hence of genocide, because we are affecting humanity as a whole," said Mr Morales in his speech.
Japan has come under huge pressure to soften its stance - not necessarily to embrace the protocol, but at least to agree to a form of words that will allow discussions to continue beyond this summit.
A number of leaders, including UK Prime Minister David Cameron and Mexican President Felipe Calderon, timetabled calls to Mr Kan.
But reports from Tokyo suggested Mr Kan was not taking the calls, instead referring everything back to Cancun.
Campaigners suggested Japan should be held accountable if the Kyoto issue does derail the talks here.
"It may be possible that if Japan keeps blocking the progress of these climate talks, and if they're seen to be undermining the UN process, it could start to threaten their hopes for a permanent seat on the UN Security Council," said Joss Garman of Greenpeace UK.
Other sources suggested Russia may prove equally implacable in its opposition to an extension of the Kyoto mandate.
Usually western countries get the blame for delaying progress in UN fora. However, in the last few days, some environmental groups and some developing countries have also singled out Bolivia, the most hardline in the developing world on these issues.
Its stance includes demanding that the global average temperature rise since pre-industrial times be limited to 1C and that rich countries should pay several percent of their GDP per year out of public finances for "climate damage".
While appreciating the principles, others feel Bolivia's line is unworkable, and its negotiating tactics negative.
On Thursday, Costa Rica became the first developing country to put its concerns on record.
While declining to formally criticise its Latin neighbour, deputy energy minister Andrei Bourrouet told BBC News that Mr Morales' country was "leading the process to delay the discussion" through its fundamental opposition to ideas such as market mechanisms.
"They have a political and ideological position," he said.
"We understand this position, but the common issue for the rest of the countries is that we have to be flexible; this is the message coming from many many countries.
"We have a time limit in order to get agreements during the next hours."
However, others backed the Bolivian position, instead citing western intransigence.
"We cannot continue to have this pattern of donor-recipient relationship that has been so damaging," said Yolanda Kakabadse, formerly Ecuador's Environment Minister and now president of environmental group WWF.
"And unless all the governments confirm that we all have a stake, we will continue to have people like the Bolivian representatives who feel that this is not a fair deal."
Meanwhile, the Mexican host government is producing new, slimmed-down versions of the main draft agreements.
With just one day remaining of the two-week summit here, it is unclear whether any kind of deal can be agreed - and if so, what it would do to curb climate change.
Related Internet Links
The BBC is not responsible for the content of external sites.