Tests show head of France's King Henri IV 'genuine'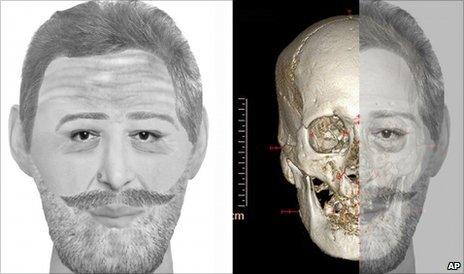 Scientists say they have identified an embalmed head as belonging to King Henri IV of France, who was assassinated in 1610 at the age of 57.
The head was lost after revolutionaries ransacked the royal chapel at Saint Denis, near Paris, in 1793.
A head, presumed to be that of Henri IV, has passed between private collectors since then.
A team of scientists used the latest forensic techniques to identify features seen in portraits of the king.
A lesion near his nose, a pierced ear and a healed facial wound - from a previous assassination attempt - were among the marks that identified the head.
The methods used to embalm the head also matched techniques in use at the time of his death, said the scientists in a report published by the British Medical Journal (BMJ).
It was not possible to use DNA evidence to identify the head because it was impossible to find a sample from it that could be guaranteed to be uncontaminated.
"The human head had a light brown colour, open mouth and partially closed eyes," said the scientists, led by forensic pathologist Philippe Charlier.
"The preservation was excellent, with all soft tissues and internal organs well conserved."
King Henri IV was one of France's favourite monarchs.
He converted to Catholicism to end France's wars of religion, declaring "Paris is worth a Mass", but was later killed by a Catholic fundamentalist.
He built the Pont Neuf bridge and the Place des Vosges in Paris. Henri was the first of the Bourbon line of monarchs, which included his grandson Louis XIV, the Sun King.
His head will now be reinterred in the Basilica of Saint Denis after a national Mass and funeral next year.