Ariane 5 makes final 2010 flight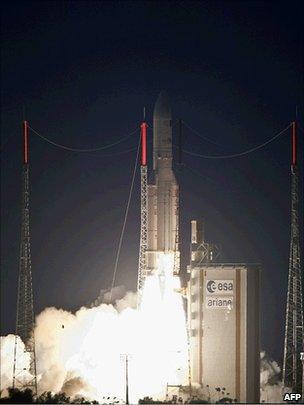 Europe's heavy-lift rocket, the Ariane 5, has completed its sixth and final mission of 2010, putting two satellites high above the Earth.
The launcher powered skyward from its Kourou spaceport in French Guiana at 1827 local time (2127 GMT).
Ariane's biggest "passenger" was Hispasat-1E, a 5.3-tonne platform that will deliver a range of video and data services to Europe and the Americas.
The 2.7t Koreasat-6 will handle TV and telecoms services for South Korea.
"It's the 41st consecutive success of Ariane 5 and in 2010 we will have launched a total of 12 large telecommunications satellites out of a world total of 20," said Jean-Yves Le Gall, the chairman and CEO of the rocket's operator, Arianespace. "This gives us a market share of 60%."
The vehicle's first outing of 2011 is likely to be a re-supply mission to the International Space Station (ISS).
Ariane will be used to put Europe's 20-tonne space freighter, ATV-Johannes Kepler, in a low-Earth orbit. The flight is scheduled for 15 February.
After separating from the Ariane, the freighter will use its own thrusters to get to the orbiting outpost.
It will be carrying more than six tonnes of fuel, air, food and equipment for the station's astronauts.
Related Internet Links
The BBC is not responsible for the content of external sites.