England's uplands 'get more frequent heavy rainfall'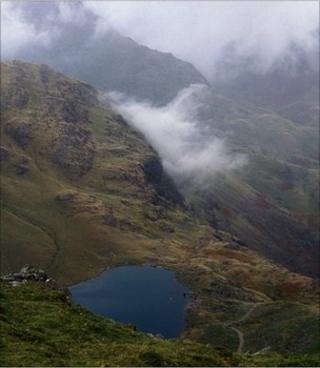 The frequency of heavy rainfall during the autumn and winter over the uplands of North England has "significantly" increased, a study has shown.
A team of UK researchers said the shift coincided with an increase in westerly weather systems over the area.
The findings showed why models looking at future weather scenarios had to take into account how high ground could affect rainfall patterns, they added.
The findings will appear in the International Journal of Climatology.
"It seems to be a significant trend through the 20th Century," said co-author Tim Burt from Durham University.
"We started in the 1900s with quite dry winters and relatively few heavy falls, while the 1990s were obviously exceptional in that regard."
The last decade of the century saw the uplands receive a record number of heavy falls of rain in winter, yet an "almost complete absence of heavy summer rainfalls".
Professor Burt explained that an inch or two of rainfall over the course of a day, spread over a large catchment area, had the potential to result in a sizeable flood in low-lying areas where run-off from the uplands had accumulated in local river systems.
"So if these sorts of rainfalls become more common, then the implication is that flooding will become more common," he told BBC News.
Westerly woes
Professor Burt, with co-author Emma Ferranti from Lancaster University's Environment Centre, reached their conclusion after analysing data from sites stretching across northern England - from Cumbria to Durham.
They then compared their findings with a record of weather systems, known as the Lamb Weather Catalogue, to see if there was a reason for the increased frequency of heavy rainfall across the uplands.
"The general pattern has been more frequent westerly (winds), and that drives more air masses over the hills and generates the upland rainfall," Professor Burt explained.
"Whereas the summer circulation seems to have been rather less vigorous."
The paper has been published a little over a year after floods in Cumbria caused widespread devastation and claimed the life of a police officer.
The Met Office says the floods in November 2009 were the result of exceptional levels of rainfall falling over the southern fells of the Lake District, resulting in a vast volume of run-off swamping the area's river systems in a very short period of time.
Forecasters said a warm, moist south-westerly airstream was affecting the UK at the time.
On its website, the Met Office said: "A weather front within this airstream brought exceptionally prolonged and heavy rainfall as the air was forced to rise over the higher ground of the Lake District - this feature persisted across northern England for around 36 hours."
Cutback concerns
Professor Burt said their study highlighted the value of long-running datasets from the uplands in order to identify long-term changes in weather patterns, because such changes in rainfall were not recorded at lowland sites, such as Barrow on the west coast, and Durham on the east.
He added that long records from upland sites were already rare, and voiced concern that daily rainfall measurements were being halted.
"Some of these things can be overcome by using automated systems that can work without the need for people to go to them," he said.
"But the tendency is to get rid of the remote gauges because they are expensive to run and more tricky to get to in inclement weather.
"But, of course, these are the sort of places where we need to maintain at least some long-term monitoring."
One area where the data could prove important was in attempts to "downscale" results from global climate models to a regional level.
Professor Burt said: "They do need to include this 'upland effect' because if you assume the Earth is flat when you go from continental-scale prediction to a regional scale then you miss a lot.
"So one way or another, these things do need to be included. If you predicting rainfall for northern England as opposed to Western Europe, then you have to take into account local factors (such as an area's topography).
"I think there is still a lot of work to be done going forward, especially when you try to downscale to more local detail."