UK is 'lazy man of Europe' when it comes to organics
By Mark Kinver
Science and environment reporter, BBC News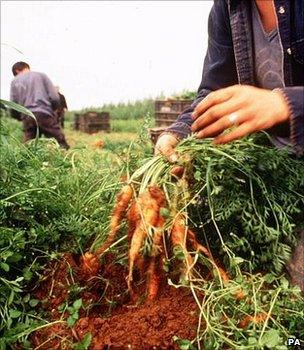 The UK government is not doing enough to support and promote organic food and farming, a report says.
The Soil Association said sales continued to grow in other European nations during the recession, while UK sales fell by 13.6% in 2009.
A government spokeswoman said there was scope for UK organic producers to grow if they became more competitive.
Peter Melchett, policy director for the Soil Association - which operates the UK's largest organic accreditation scheme - described the fall in sales, after years of continuous growth, as "really frustrating".
"All of the other major European markets continued to grow, so this country's farmers are losing a good business opportunity thanks to a sort of Neanderthal attitude," he told BBC News.
"The government really haven't been anything like as supportive in the UK as other governments have been in other European countries."
He added that consumers in other EU nations had "better access to good information about the relative merits of different farming systems and food".
The report, The Lazy Man of Europe, said that once consumers had accurate information about organic farming and food, they increased their purchases of such goods.
"Governments have a big part to play in providing that sort of information," suggested Mr Melchett.
The report recommended a number of actions for the government to take, including:
welcoming the organic market as an important growth area for the nation's economy,
introduction of a cross-departmental food strategy that recognises the role of organic farming,
re-establishment of a dedicated research budget to address problems faced by the organic sector, and
matching industry funding to promote organic food and farming.
Mr Melchett added that the UK was more "ideologically opposed" to the nature-based farming system, adding that government agencies and scientific and farming bodies were also not supportive.
Helen Browning used her first address as director of the Soil Association to call for a closer partnership with other "conventional" farming systems.
"There is more to gain by finding common ground than by lobbing rocks from each others' hill-tops," she told delegates.
"We must continue to hear and reflect on diverse views and perspectives, with the aim to distil a collective understanding that can guide our work."
Speaking to the Food and the Big Society conference via a recorded video message, Environment Secretary Caroline Spelman said that future food shortages were causing concern among the public.
Referring to a recently published Foresight report that said urgent action was needed in order to avert global hunger, Ms Spelman added that it made a "strong case for this being the most urgent question facing this generation".
"Across the world, farmers need to grow more food, using less water, less fossil fuel and less land whilst at the same time adapting to climate change," she said.
"Although the Foresight report concluded that organic agriculture is not the cure-all for the global food system, it has a significant part to play in sustainable food production."
Another speaker, Professor Urs Niggli, director of the Swiss Research Institute for Organic Agriculture, said he was disappointed that Ms Spelman did not use her speech to set out the government's goals for organic farming.
"In many other European countries, I see that there is a lot of ambition on how organic farming should develop," he explained.
"For example, in Austria, they have already reached 20% of their land area in organic farming.
"[They see] organic farming as crucial for rural development, biodiversity and also for combating climate change.
"If you look at Switzerland, it is already at 11% [organic] and it is pushing hard towards 20% as well.
"This is because we see organic farming in Alpine zones as being the solution for many many of the problems."
The Alpine regions within Switzerland are important areas for tourism, biodiversity and water supplies.
National Farmers' Union president Peter Kendall said he looked forward to organic and conventional farmers working more closely together, but warned it would be "dangerous" for the government to set fixed targets.
"I warn you from years of experience, governments meddling by saying what you should be doing with your businesses is not the way forward," he said.
"Get consumers to want to buy."
Referring to the recommendations outlined in the Association's report, he added: "You want the market to take you. You do not want the [government] to do it, because it is extra resources drawn from your business.
"Do not say that the government should have targets... it should be supply and demand."
Responding to the Soil Association's report, a Defra spokeswoman said: "Organic farming is one of the pioneering approaches to sustainable production and remains influential, but it's not the only one and it would not be right to increase taxpayer support for one particular sector.
"Many consumers make some purchases of organic produce," she added.
"It commands a premium price, but it represents less than 2% of the market. The opportunity is there for organic suppliers to build their market share by being competitive and customer-focused."
Related Internet Links
The BBC is not responsible for the content of external sites.