Svalbard seed vault to take Peruvian potato samples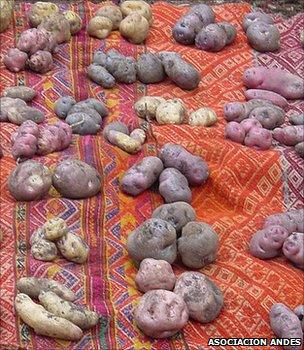 Farmers in Peru are sending 1,500 varieties of potatoes to a "doomsday vault" in the Arctic Circle in order to safeguard the tubers' future.
Potatoes are regarded as the world's most important non-cereal crop, and have been eaten for about 8,000 years.
But native species from the highlands of South America appear to be at risk.
The samples will be stored in a vault inside a mountain, which aims to protect the world's food crop species against natural and human disasters.
"Peruvian potato culture is under threat," said Alejandro Argumedo, a plant scientist involved in the project. "The work we begin today will guarantee the availability of our incredible potato diversity for future generations."
The samples being sent to the Svalbard Global Seed Vault are being provided by the Cusco Potato Park, which covers more than 10,000 hectares and was set up by six indigenous communities in order to protect biodiversity and protect food security in the region.
The Andes are homes to more than 4,000 varieties of native potato, and the park's collection has attracted plant breeders from all over the world, searching for traits such as disease resistance, flavour or nutritional attributes.
However, the park faces an uncertain future because changes to the area's climate could undermine the farmers' weather-dependent agricultural systems.
"Climate change will mean that traditional methods of maintaining this collection can no longer provide absolute guarantees," explained Lino Mamani, head of the "potato guardians" collective.
"Sending seeds to the [vault] will help us to provide a valuable back-up collection - the vault was built for the global community and we are going to use it."
One of the varieties that will be stored in Svalbard is known as the "bride's potato".
Its unusual name, it is said, dates back to Incan times, when a bride was expected to peel this potato in order to display that she had the necessary skills to be a good wife.
The Svalbard seed vault, which opened in February 2008, was designed to store duplicates of all seed samples from the world's crop collections.
Permafrost and thick rock surrounding the vault, built 130 metres inside a mountain, ensure that the samples will remain frozen even in the case of power failure.
The Global Crop Diversity Trust, which operates the facility, describes it as the "ultimate insurance policy for the world's food supply".
Cary Fowler, the Trust's executive director, said: "The Potato Park highlights the active role that individual communities play in creating and conserving diversity.
"This partnership demonstrates the critical importance of the seed vault in backing up conservation efforts of all kinds."
Related Internet Links
The BBC is not responsible for the content of external sites.