New post-mortem method developed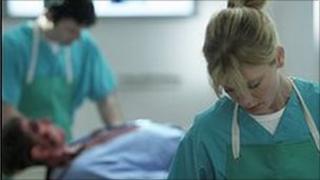 A non-surgical autopsy technique which could remove the need to open up the body to determine a cause of death has been developed.
It involves a scanner and a small incision in the neck and has so far been shown to be 80% accurate in determining the cause of death.
Conventional post-mortem examinations require cutting open the body so the vital organs can be inspected.
The method has been developed by the University of Leicester.
The conventional autopsy process can be distressing for the family and is opposed by some communities on religious grounds.
The University of Leicester team use a Computed Tomography or CT scanner to search externally for trauma, fractures and cancers throughout the body.
But a further technique is required to fully investigate the heart.
Evidence base
This involves a small incision being made in the neck, so that a catheter can be fed down towards the coronary arteries.
First air, and then a white dye, are injected, and the CT scanner used again to look for detailed evidence of heart disease.
So far, the technique has been tested on 33 deceased individuals.
Dr Sarah Saunders, who lead the research, says further tests will be conducted throughout this year, to fully establish its efficacy.
She said: "This is a very, very, different approach to autopsy.
"The first thing we need is a significant evidence base to convince our pathology colleagues and coroners that CT autopsy can provide exactly the same information as autopsy can and that we are able to show people 'look, this technique really does work'".
The new technique is one of a number being pursued worldwide to devise an alternative to the autopsy.
Dr Saunders argues that her team's approach could prove quicker and more cost-effective than rival non-surgical approaches.