Striking view of 'Milky Way twin'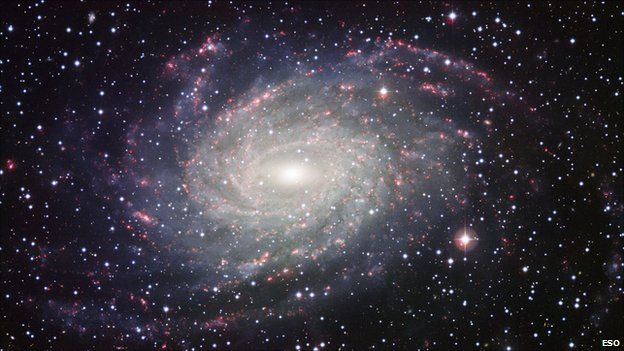 Astronomers have released what they say is the best-yet picture of NGC 6744, a spiral galaxy described as a "sibling" of our own Milky Way.
The image was snapped by the European Southern Observatory's MPG/ESO 2.2-metre telescope in Chile.
The galaxy lies 30 million light-years away, in the constellation Pavo.
While it is almost twice as large as the Milky Way, it exhibits the same sharply-defined spiral arms and stretched central region.
There is even a small companion galaxy, visible at the lower right of the image, which is analogous to our own galactic neighbours the Magellanic Clouds.
Those arms host many star-forming regions; the glow coming from hydrogen gas in these active regions shows up as red in the image.
Related Internet Links
The BBC is not responsible for the content of external sites.