Rainfall shows North-South divide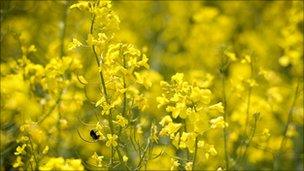 The south and east of England are on course for their driest spring since 1910, but parts of Scotland have experienced above average rainfall.
Overall, the UK's spring rainfall has been very similar to that during the same period last year.
The UK Met Office said they had compiled provisional data from 1 March to 25 May.
The weather forecaster is expected to release temperature data for the spring imminently.
East Anglia has been the driest region with just 17mm of rain - 13% of the long-term spring average of 134.9mm.
The previous driest spring in that region occurred in 1996, when just 51.9mm of rain fell.
However, Argyll recorded 538.6mm of rain, well above the long-term average of 422.0mm.
Temperature data is due to be released on Tuesday, amid speculation this may have been one of the warmest ever springs.