Getting smart on child brain tumours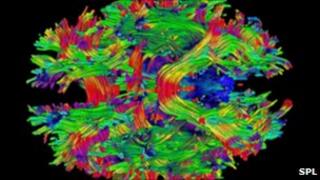 Across the UK, some 500 children a year are diagnosed with a brain tumour.
It's a relatively low number that means most GP's might expect to see only one or two cases in their career. Even so, the consequences - both for the individuals and their families - can be devastating, and brain tumour remains the leading cause of cancer deaths in children.
While medical advances in surgery and post-operative care mean that survival rates have improved in recent years, early diagnosis is crucial to achieving better outcomes, and here the UK seems to be falling behind other developed countries. It can take up to three months for a child to be diagnosed here - three times longer than in the United States or Canada.
"Tumours grow, so the earlier you diagnose them the smaller they'll be," says the paediatric oncologist Professor David Walker, "and as they get bigger they press on adjacent bits of the brain and cause more brain damage. So time is crucial."
The problem is that the symptoms of brain tumour - vomiting, headaches, blurred vision and loss of coordination can easily be mistaken for more common childhood illnesses.
That's what happened to Lauren Pearson, a bright, bubbly 14-year-old girl I met at the Queen's Medical Centre in Nottingham last week.
Lauren's mum Julie told me she first took her daughter to see their GP complaining of nausea and vomiting in March 2010. But after a series of treatments for everything from period pains to migraine Lauren's tumour was only spotted when her sight began to blur. The optician couldn't find anything wrong with her eyes, but thought it might be pressure on her optic nerve and recommended a brain scan.
That was in April this year, and although Lauren was operated on the same day, by then the tumour had already caused significant damage to her developing brain. Her initial recovery went well, but subsequent complications have left her in a wheelchair and unable to talk.
It's this problem of misinterpretation - and the consequential delay in diagnosis - that the HeadSmart campaign, launched today, aims to highlight.
Through a website, leaflets and pocket-sized symptoms cards, the campaign aims to drive down the length of time it takes to spot the symptoms of brain tumours in children.
One of the co-founders of HeadSmart is Neil Dickson, whose own daughter Samantha died of a brain tumour in 1996. "The plan is to reduce the average time a diagnosis takes in the UK from 12 weeks to six weeks. Not only will that save the lives of some children, but it will also save a number of children from suffering major disability if their tumours are picked up earlier".
Although the HeadSmart campaign has been careful not to alienate doctors by explicitly criticising them for failing to spot the symptoms of brain tumour, the Department of Health has acknowledged more needs to be done to raise awareness of the issues.
In a statement it said ministers would hold a series of meetings with charities campaigning on rare cancers to discuss potential solutions.