Scotland's 'bizarre' seal plans under fire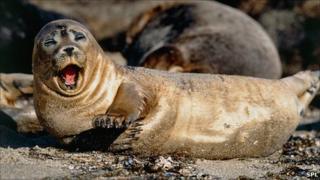 The Scottish government is coming under fire from environmental groups over plans to protect coastal sites used by only half of the nation's seals.
Numbers of harbour (or common) seals are declining, and campaigners say not protecting all the sites where they haul themselves onto land is "bizarre".
The government says it wants a balance that does not impact "other sustainable activities around the coast".
Its consultation on seal haul-out sites ends next week.
In the sites it designates, seals would be protected from "harrassment", under measures contained in the Marine Act passed last year.
But Vassili Papastavrou, a biologist with the International Fund for Animal Welfare (Ifaw), said protecting sites used by only half of the seals was "bizarre".
"The government suggests that allowing intentional harassment of seals on about half of their haul-out sites is part of some kind of 'balance' between seals and other sustainable activities," he said.
"But how could an activity that forces a top predator from the local ecosystem ever meet criteria for 'sustainability'?"
These "sustainable" activities could include industries such as fish-farming.
Elaine Murray, Member of the Scottish Parliament (MSP) for Dumfriesshire, fought to have haul-out sites recognised in the Marine Act, and is concerned that only half of the seals would be covered.
"This is very odd - it seems to me to be contrary to the intention of the Act to protect only 50% of the common seal haul-out sites - especially when it's the population of common seals which is a cause for concern," she told BBC News.
"To my recollection, there was no discussion on limiting the number of haul-out sites covered by the harassment offence when this was being discussed during the passage of the Act."
Balance issue
The harbour seal (Phoca vitulina) is found on the shores of the UK and other northern European countries, down the east and west coasts of North America, and on the east coast of Russia and Japan.
Globally, it is not threatened, with numbers estimated at five to six million.
But in northern Scotland, numbers have declined sharply - by about 60% during the last decade in Orkney and Shetland.
The other species that lives around Scottish shores, the grey seal (Halichoerus grypus), has expanded in recent decades.
The reasons behind these trends, and whether the fortunes of the two species are linked, are not well understood.
Data on Scotland's seal population is compiled by Callan Duck from the Sea Mammal Research Unit (SMRU) at St Andrews University.
He told BBC News that "it would probably be a good idea" to protect all the sites where harbour seals haul themselves onto land, given the population shrinkage.
The government asked SMRU to draw up a list of priority sites for protection, and this document - seen by BBC News - makes clear that the decision to aim for 50% coverage was the government's.
"Enough sites were identified to contain at least 50% of each Seal Management Area's most recent count of harbour and grey seals," it reads.
"The Scottish Government decided that this would offer a good balance between maximising protection while minimising possible impacts on other sustainable activities around the coast."
The provisional list contains 146 haul-out sites, including 101 used by harbour seals.
The consultation document says it is "intended to provide a focus for discussion.
"It may be that some stakeholders will wish to suggest additional sites be added to the list for consideration or, alternatively, to suggest that some sites currently on the list should be removed."
The consultation closes on Tuesday 21 June, and Elaine Murray is urging people concerned by the plans to send their comments to the Scottish government by then.
A government spokeswoman said all responses would be welcomed.
"The draft list of seal haul-outs sites set out in the consultation paper sought to record those containing the highest concentrations of each species of seal," she said.
"This list was considered a useful starting point for the consultation, but the latter makes very clear that the list is not fixed and may be increased or reduced following consideration of consultation responses."
But Callan Duck is also keen to secure more protection for seals at European level.
"All cetaceans have been designated as protected species by the EU - seals don't have the same protection, even though they're considerably less numerous than some cetacean species," he said.
"So a more fundamental question is: why don't they have that same protection? Why are they second-class citizens?"