Europe's fisheries policy reforms to be unveiled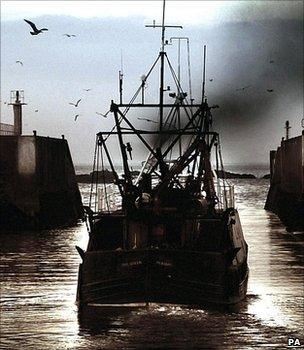 Long-awaited proposals to reform the EU's Common Fisheries Policy (CFP) will be unveiled on Wednesday.
Measures to cut overfishing, reduce the number of vessels, and banning fish discards at sea are set to be out by Fisheries Commissioner Maria Damanaki.
In 2009, the European Commission said the CFP had failed to sustainably manage fish stocks and had to change.
Environmental groups have long voiced concerns that CFP was allowing too many vessels catch depleted fish stocks.
According to a draft seen by BBC News, one of the central objectives of the proposals is set to introduce an "obligation to land all catches" by 2016.
Under the current system, EU boats in the North Sea have to throw away up to half of what they catch to stay within their quotas.
Ms Damanaki had earlier proposed ways to regulate fleets through limits on fishing time and greater use of measures such as CCTV.
In the UK, a petition started by celebrity chef Hugh Fearnley-Whittingstall called on EU leaders to "stop this unacceptable and shameful practice" attracted more than half-a-million signatures.
But fishing industry representatives voiced concern that the measured would be a step too far and would threaten livelihoods.
Other measures are expected to include:
ensuring catches are within levels that can "produce the maximum sustainable yields" by 2015
implementation of an "ecosystem-based approach" to limit the impact of fishing
reduce fleet over-capacity through market measures rather than subsidies
promote the development of "aquaculture activities" to ensure food security and job opportunities
developing alternative types of fish management techniques
Last month, Ms Damanaki warned that the prospects for the EU fishing sector without changes being made were "grim".
"In general terms, it's easy to see that if we don't act, we will lose one fish stock after the other, and this will have two major consequences," she said.
"One is that, since nature doesn't like voids, other species will take their place, with a chain reaction of effects that is hard to predict. And we will have changed the ecosystem for ever."
"The second is that the industry will face even more economic pressure. We will lose jobs... and all of us, as consumers, will end up with less fish on our plates.
Campaign group Fish Fight said that it was time to end the "crazy EU regulations" that resulted in one million tonnes of fish each year being catch and thrown back, very often dead, into the sea.
Fish Fight supporter Mr Fearnley-Whittingstall said he was "delighted" that the European Commission was proposing radical reforms.
"The current system is a farce... but these are just the proposals," he observed.
"It is not until the end of 2012 that anything will become law. Now, more than ever, Europeans need to show their support... to make sure that over the next 18 months our politicians make the right decisions that will help preserve both fish stocks and the fishing industry."
Seafish, a representative body for the UK fishing industry, Seafish, the authority on seafood, said it hoped that the CFP proposals would give the sector "flexibility to operate sustainably and profitably".
Head of environment Philip MacMullen said: "The issue of discards shows clearly how a 'one size fits all' solution does not work.
"Even within the same fishery, the level of discards can vary by moving to slightly different grounds.
"We believe that the CFP reform should concentrate on high level goals and not be over prescriptive with solutions. We advocate management responsibilities being inclusive, encouraging fishermen to propose their own ideas and become custodians of the sea."
The proposals now have to be considered by the European Parliament and member states before they can be adopted as binding legislation, which commentators acknowledge will not be plain sailing.
"It is not going to be easy," said Markus Knigge, policy and research director for the Pew Environment Group's Brussels-based European Marine Programme.
"I do believe that most member states accept that we have to do something, but when it comes to solutions, that can be more difficult to discuss than the failures of the current policy," he told BBC News.
He said that there were a number of nations that were not happy about particular parts of the proposals, such as the role of scientific advice in the process of setting catch limits etc.
He added that it was not possible to gauge how negotiations would go because, as a result of the Lisbon Treaty, the European Parliament would have an equal say as the traditionally more powerful Council of Ministers.
"The outcome is unknown. There are some signs that there is a mood for change," referring to a large group of MEPs, headed by the UK's Chris Davies, who are joining forces.
"They are demonstrating that there is a huge interest in the current crisis, and that there is a need that we can and have to manage this natural resource better."
Related Internet Links
The BBC is not responsible for the content of external sites.