Globalstar launches latest satellite batch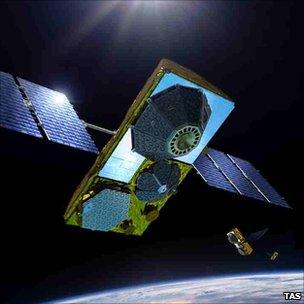 Globalstar, one of the big players in mobile satellite voice and data services, has launched another batch of spacecraft to update its constellation.
A Soyuz rocket carrying the six satellites lifted off from the Baikonur cosmodrome at 0227 GMT.
Six other spacecraft were previously launched back in October.
Globalstar is the first of the major sat-phone companies to start upgrading their systems. Twelve more spacecraft should launch before the year's end.
The upgrade is a pressing concern for the company because its existing constellation is failing.
Rolled out in the late 1990s, many of these original satellites have suffered suspected radiation damage to their S-band transmitter equipment, which has limited their ability to handle two-way communications.
To compensate, the company has grown markets that rely on one-way messaging for security and safety. Its Spot services, for example, run off small devices that can be carried by a child, a backpacker or a boat, and which relay simple information back to a receiver about location and movement.
Globalstar says its $1bn replacement programme will not only restore the network to full capability but significantly enhance the services like Spot that it is able to offer in the future.
However, North American customers have yet to see the benefit of the new satellites. The US Federal Communications Commission will not permit Globalstar to communicate with the next generation spacecraft within its jurisdiction until system has been registered with the United Nations. Globalstar hopes this will happen soon.
Related Internet Links
The BBC is not responsible for the content of external sites.