Gagarin statue unveiled in London
By Jonathan Amos
Science correspondent, BBC News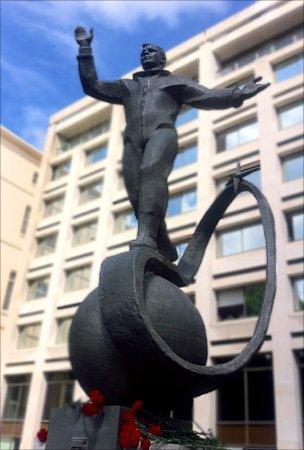 A statue has been unveiled in London to celebrate the first spaceman - Yuri Gagarin.
The figure, which has been placed just off The Mall, next to Admiralty Arch, features the cosmonaut in his flight suit and standing on a globe.
Gagarin shook the world when it was announced on 12 April 1961 that he had circled the Earth in a spacecraft.
A host of dignitaries were present for the unveiling, including the cosmonaut's daughter, Elena Gagarina.
"The 12th of April 1961 was one of the most remarkable days in history, uniting all people in all countries on all continents," said Gagarina, who is the current director of the Kremlin Museums.
"I express my great gratitude to all Londoners and all the people of the UK," she added just before the unveiling.
Others in attendance included Vladimir Popovkin, the new head of the Russian space agency; and Sergei Krikalev, the most experienced spaceman in history having logged more than 800 days in orbit.
After circling the planet, Gagarin became an international superstar and undertook a world tour.
He was invited to Britain by the National Union of Foundrymen and it was at Admiralty Arch that he met the then Prime Minister Harold MacMillan.
The 3.5m-high (12ft) zinc-alloy figure is a gift from Roscosmos to the British Council, the organisation that represents the UK culturally abroad. The Council has its HQ just metres from the Arch, making the statue's setting doubly significant.
The figure is a copy of one sited in the town of Lubertsy, just outside Moscow, where Gagarin trained as a foundry worker in his mid-teens.
The original was made in 1984 to celebrate what would have been the cosmonaut's 50th birthday - he died in a plane crash aged just 34 years.
Westminster City Council has granted a 12-month licence for the statue and its Portland stone plinth.
It stands facing Captain Cook on the opposite side of The Mall, and close to the statue of Navigation seated in the wall of Admiralty Arch. The pedestal of Captain Cook is inscribed with the words "circumnavigator of the globe".
Roscosmos Popovkin said: "Russians are very proud that [Gagarin] was Russian, but if you look at it more philosophically - he was a delegate from the whole world to space.
"He reminds us how we must be together in the exploration of space."
The statue is part of a series of cultural events to mark the 50th anniversary of Gagarin's historic flight.
These include an exhibition at the Council's headquarters on the life of the cosmonaut and the early Soviet space programme.
The Queen, who met Gagarin on his world tour in '61, was represented at the statue unveiling by their Royal Highnesses Prince and Princess Michael of Kent.
Related Internet Links
The BBC is not responsible for the content of external sites.