UK launches woodland carbon code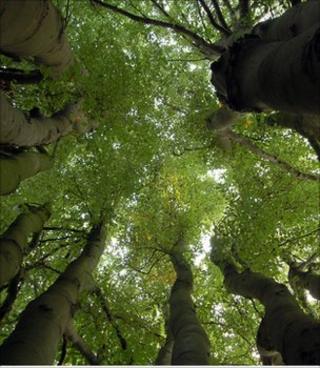 The UK Forestry Commission has published guidelines for schemes that plant trees in order to absorb carbon.
The Woodland Carbon Code is designed to address some of the criticisms levelled at carbon offsetting projects.
Organisation such as the Royal Society for the Protection of Birds (RSPB) argue that woodlands are about more than just being carbon sinks.
MPs have said it was hard to verify claims of carbon uptake due to a lack of meaningful regulations.
The Forestry Commission says the new code is designed to provide a "consistent national approach, as well as clarity and transparency to potential investors about just what their money should buy them".
In order to comply with the code, the commission added that woodland projects had to be managed to national standards, use established methods for estimating the amount of carbon captured by the trees, and be independently verified.
In order to be considered by the code's administrators, project managers will have to register each offsetting scheme, stating its exact location and long-term objectives.
Once approved, the commission added, the project would then be listed in a national online register.
The announcement coincided with the publication of government guidance for organisations on "reporting greenhouse gas removals and emissions from domestic woodland creation".
More than sinks
Responding to the publication of the code, Dr Nick Atkinson from the Woodland Trust said the guidelines would help re-energise the woodland sector of the voluntary carbon market.
"The Woodland Carbon Code puts woodland creation on the map as part of the UK's response to climate change," he said.
"Businesses looking to voluntarily support tree planting can have confidence in the claims made around carbon removal whilst at the same time demonstrating their environmental commitment to their customers."
However, the RSPB was a little more cautious in its welcome. Conservation director Martin Harper warned that planting trees in the UK to offset carbon emissions would not solve climate problems, and must not put wildlife at risk.
"The important thing to remember is that woodlands are not just carbon sponges - they are also vital in supporting a range of threatened wildlife," he said.
"They must also be planted in the right places - much of our wildlife-rich natural landscapes such as lowland heathland have been destroyed by irresponsible, poorly planned tree-planting."
He added: "Unfortunately, this code does not go far enough when it comes to promoting the restoration of some important wildlife habitats like peat bogs.
"UK forestry has a vital role in addressing climate change, not by planting new woodlands, but by restoring peat bogs that were inappropriately drained and planted with forestry.
"These important carbon stores can and should be restored, both to help tackle climate change and to provide important sites for wildlife."
Commenting on the launch of the code, Forestry Commission chairwoman Pam Warhurst said that tree-planting projects were beneficial for organisations for a range of reasons.
"They can reduce their carbon footprint at low cost, improve the environment and enhance their environmental reputation," she said.
Quick fix?
However, offsetting schemes that involved tree planting had been criticised for being an easy option, allowing companies to reduce their carbon footprint without changing their day-to-day operations.
In a 2007 report on voluntary carbon markets, MPs on the Environmental Audit Committee concluded that some schemes were "less than robust" and threatened to undermine any potential environmental gains.
Later that year, the Forestry Commission commissioned Professor Sir David Read to review the role that UK forests could play in mitigating human-induced climate change.
In 2009, the University of Sheffield professor of plant science published his findings, and concluded that woodland creation offered a "highly cost-effective and achievable abatement of GHG emissions when compared with potential abatement options across other sectors".
Ms Warhurst said that progress had been made since then, culminating in the launch of the code.
"We now have the means to capitalise on some very significant funding opportunities and attract very new woods and forests for everyone's benefits," she suggested.
The UK's woodlands, which cover about 12% of the nation's land area, are estimated to absorb about 2% of its annual greenhouse gas emissions.