Willow tit and lesser spotted woodpecker on at-risk list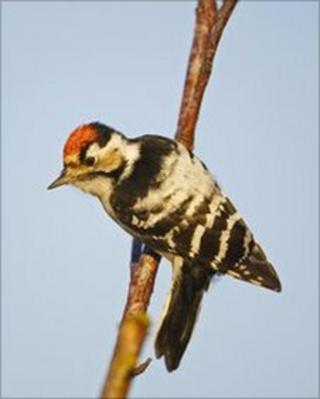 Two once-widespread woodland species of British birds have been put on the endangered list after a steep decline in their numbers.
Populations of the willow tit and lesser spotted woodpecker have dropped by 91% and 76% respectively since the 1970s, the RSPB said.
It is not clear why the species are declining; however, experts believe woodland changes may be playing a role.
The birds will now be monitored to find out why they are struggling to survive.
The Rare Breeding Birds Panel has also added the long-eared owl, short-eared owl and Arctic skua to the list of species it now considers to be at risk.
Mark Eaton from the RSPB said: "It is tragic to think that within many people's memories these woodland birds were so widespread and now they are so rare.
"Since the 1970s, we've lost nine out of 10 pairs of willow tits and three out of four pairs of lesser spotted woodpecker, and in many areas these birds have disappeared completely."
'Essential snapshot'
The RSPB said the declines were "extremely alarming", with the birds disappearing altogether from counties where they were once found.
Experts say a lack of suitable management of forests which would allow new growth and provide birds with dead and decaying timber may be having an impact.
Willow tits may also be hit by wooded areas drying out.
Experts are now tracking 103 species of rare birds which regularly or occasionally nest in the UK.
They are calling on bird watchers to submit records if they see any of the birds which are on the at-risk register.
The panel's secretary Mark Holling said: "With so many species in trouble, these reports provide an essential snapshot of how our most threatened birds are faring.
"Whether it's the spectacular increase of the red kite, or the near extinction of the wryneck and the red-backed shrike, our information arms conservation groups and government agencies to help our rarest and most vulnerable birds."