Climate change migration warning issued through report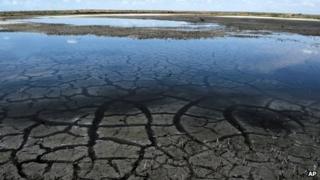 Governments and aid agencies should help the world's poorest to move away from areas likely to be hit by flooding and drought, a UK report says.
The government-commissioned report warns of potential humanitarian disasters because of climate change.
It says the cost of acting now would be much less than the cost of the conflicts and huge loss of life that would otherwise ensue.
The report focused on the issue of human migration patterns.
The Migration and Global Environmental Change Foresight Report is the most detailed study carried out on the effect of flooding, drought and rising sea levels on human migration patterns over the next 50 years.
The government's chief scientist, Professor Sir John Beddington, who commissioned the study, said that environmental change would hit the world's poorest the hardest and that millions of them would inadvertently migrate toward, rather than away from, areas that are most vulnerable.
"[These people] will be trapped in dangerous conditions and unable to be moved to safety," he said.
One of the reasons the report was commissioned was to examine concerns that the environmental degradation caused by climate change would lead to millions of so-called climate refugees abandoning sterile farmland and migrating to countries less affected by the problem.
Detailed analysis commissioned specifically for the study found that this was unlikely to be the case. Three-quarters of the migration, it says would be within national borders - predominantly from rural to urban areas.
The issue, according to Professor Beddington, was to ensure that the migration was properly managed - otherwise, he said, it was likely there would be widespread humanitarian disasters on an unprecedented scale.
"It is essential that we do all we can to both address environmental change and make sure that people are as resilient as possible. This means recognising the role migration can play in helping people cope," he said.
But the idea of managed migration is controversial. Traditionally, migration has been seen as a bad thing by the aid agencies as it uproots communities and can create conflict. But observers think the challenge for many policy makers trying to tackle climate change will be to make an ideological leap of faith in beginning to see migration as a good thing.
Professor Richard Black, of Sussex University, who chaired the expert group that produced the report, said that his team's analysis provided a "substantial evidence base" to justify such a shift in thinking.
"The report will provide policy makers with a firm basis with which to tackle the migration challenges in the future," he said.
One idea is to make it easier for one or two family members to leave their communities to work elsewhere and send money home. This has the effect of maintaining communities and avoiding the need for greater migration of entire communities.
The report also says that greater thought ought to be put into planning cities so that they would be able to cope with increased migration. This would include better water management.
Some cities likely to act as a magnet are in flood plains. In these instances, governments should consider building entirely new cities, with the support of richer governments through aid agencies if necessary, the report argues.
The cost of not developing policies to plan for the impact of climate change on populations will be much greater, and more tragic, the authors say, than pre-empting the problem now.