EU's aviation charge is a drop for China's airlines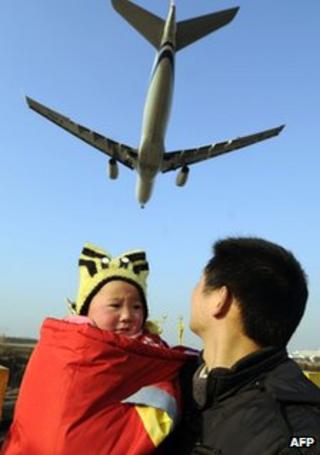 More shots are being fired in the war of words over the EU's new law requiring airlines to pay for their greenhouse gas emissions.
The law came into force at the beginning of this month, and carriers flying to or from European airports will have to include their emissions in the EU's Emission Trading Scheme (ETS).
Despite the fact that airlines will get 85% of their allowance for free, they don't seem to like the scheme very much - particularly the ones based outside the EU.
The end of last year saw the failure of a legal challenge mounted by US airlines, led by Continental.
Now, the focus has switched to Chinese carriers. The China Air Transport Association (CATA), which represents four of the country's biggest airlines, says they won't pay.
If they don't, they could face fines of up to 100 euros ($128) a tonne for their emissions - or they could be banned from EU airports.
As I alluded to in my last post of 2011, the dispute is hard to understand on one level because the sums of money involved are so trifling.
CATA estimates that Chinese airlines may lose $123m (95m euros) this year, and three times as much annually by 2020.
To put that in perspective, it's worth taking a look at the financial health of the four CATA members - Air China, China Southern Airlines, China Eastern Airlines and Air Hainan.
In 2010, Air China posted a profit of $1.83bn - double the previous year's. China Southern Airlines made a 15-fold jump to $883m, and its eastern peer a 26-fold leap to $807m.
Hainan Airlines was the baby of the bunch, turning a mere $458m profit. But its bosses were presumably comforted by being the first Chinese airline to receive "five-star" status.
Cumulatively, then, the annual profits of CATA members amount to about $4bn - vastly more than the estimated cost of adhering to the EU ETS.
Further indication of just how tiny the sums are comes from Delta, which has become the first US airline to put a levy on ticket prices tied to the EU ETS fees.
The size of the levy: $3.
At the moment, Delta has a special offer on some flights to Europe, the cheapest of which will take you from New York to Rome, Florence or Milan for $329. The same amount will get you back again.
The small print clarifies: "Federal Excise tax of $3.70, Passenger Facility Charge(s) of up to $4.50, and the September 11th Security Fee of up to $2.50 for each flight segment are not included. Fares do not include US International Air Transportation Tax of up to $32.60..."
And there's more: "For travel between United States and Europe, 60 USD/CAD*/EUR* fee for second checked bag when bags are prepaid during online check-in at delta.com (additional 15 USD/CAD*/EUR* surcharge for the second bag, when checking in via ticket counter, kiosk, or curbside)..."
How likely does the $3 look in this context to put a dent in Delta's business? Waive one 20th of the second bag surcharge... job done!
When it comes to China's airlines, it's also worth considering the overall opportunities that the ETS brings for Chinese businesses.
The Asian giant was always going to become a massive manufacturer of goods for the EU market, as it is for the US and indeed the rest of the developed world.
But academic studies of "carbon leakage" - the transfer of production from one place to another as a result of emission pricing - suggest that EU climate policies have helped transfer high-emission industries to China and other major developing countries.
The maths are vague and laden with assumptions - particularly concerning the level of the EU carbon price - and I'm not going to pretend that an accurate calculation is possible. But here's an indicative and almost certainly conservative account.
The EU's steel industry turns over 150bn euros a year. One recent modelling exercise estimated a possible leakage of nearly 40% in the energy-intensive steel business.
Those numbers together suggest the EU could lose 60bn euros worth of steel business a year as a result of its climate policies. As China is the world's largest producer, it might be expected to pick up, say, half of that.
At a profit margin of 5% on that 30bn euros, China would benefit to the tune of 1.5bn euros a year from the EU ETS.
Once again, this is an indicative exercise. But even if the figure is too high by a factor of 10, the gain to China's steel industry would outweigh the projected costs to its airlines.
And when you throw in carbon leakage in other industries as well as steel, the economics must tip further in the same direction.
But I have not seen China or any other exporting nation query the EU's right to put a price on carbon on those grounds.
The European Commission is standing its ground.
"We are not modifying our law and we are not backing down," Isaac Valero-Ladron, spokesman for climate action commissioner Connie Hedegaard, told Thursday's news conference in Brussels.
"If the Chinese want to do business in Europe, like open a restaurant or something, they have to comply with the health and safety requirements. This is not that different... if you want to operate in Europe you have to respect the law."
And as aviation pricing is now EU law, it would indeed be tough for the bloc to amend or annul.
There's talk in some quarters of a trade war; but given the piffling costs, and the fact that all airlines have to pay exactly the same fees, it's hard to see how even a waving of handbags is justified.
The suspicion must be that what we are seeing is a co-ordinated movement by two of the countries that have most vehemently opposed tough international action to restrict emissions over the last few years - perhaps as a buffer in case the EU starts looking at other trade-related climate measures, such as border adjustments, more seriously.
There's another set of statistics that might be weighing on governments' minds: the estimates of damages from natural disasters, which are always published at this time of year by the major reinsurers.
The 2011 figures were dominated by the Japanese earthquake and tsunami.
But according to Munich Re, the US alone suffered weather-related losses of $46bn.
Rising sea levels, salination of fresh water, droughts, floods... the maths of future climate impacts are inexact, but on a global scale the costs are likely to rise, not fall - and by far more than the costs borne by highly profitable Chinese airlines as they fly inside the EU's climate policy umbrella.