Badger culling: High Court challenge granted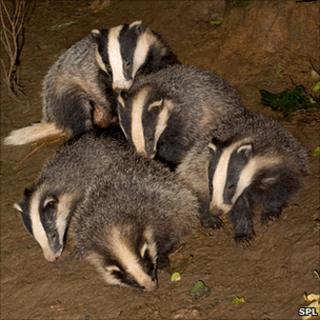 Government plans to cull badgers in England are to to be reviewed in the High Court following a legal challenge by the Badger Trust.
In December, finalised plans were announced for a cull - initially in pilot areas - to try to curb the spread of tuberculosis (TB) in cattle.
The trust says culling may spread TB. It hopes the legal challenge will be heard in June.
The government said it had to "take action now" over Bovine TB.
The Department for Environment, Food and Rural Affairs (Defra) which commissioned the cull, refused to comment on the forthcoming legal challenge, which was granted by Mr Justice Irwin.
Gwendolen Morgan, of Bindmans solicitors, representing the Badger Trust, said the proposed cull "would make matters worse at great cost to farmers, badgers and rural communities".
In the judicial review, the Badger Trust will argue for Defra's decision to be overturned based on three grounds.
Firstly, it points to Defra projections that the incidence of TB could be reduced by 12-16% over nine years.
The Protection of Badgers Act says licences to kill can be granted for "preventing the spread of disease" - and the trust argues that the slow-down in the rate of increase, or "reduction in new incidence", projected by Defra does not qualify as "prevention".
Secondly, the trust argues that government plans for trials to involve "free shooting" of badgers in pilot areas - shooting them as they roam - is likely to be ineffective or a hazard to public safety.
It says that, after the pilots, farmers may be forced to trap badgers before shooting them which it says could be 10 times more expensive than free shooting.
This, it says, would damage the government's economic case.
Thirdly, the trust says the guidance given to government agency Natural England - which Defra has tasked with issuing culling licences - is unlawful.
While regulations on farmers have been tightened and testing regimes stepped up, the government, the National Farmers' Union and other proponents say culling is still needed in badly affected areas.
A Defra spokeswoman said TB infection forced the slaughter of 25,000 cattle in 2010 alone and was taking a "terrible toll on our farmers and rural communities".
"Nobody wants to cull badgers," she said.
"But no country in the world where wildlife carries TB has eradicated the disease in cattle without tackling it in wildlife too."
She said Defra was investing in developing useable vaccines "but sadly these are still years away and we have to take action now".‬‪‬‪
"Unless TB is effectively dealt with it will cost taxpayers around £1bn over the next 10 years."
There are no plans to cull badgers in Scotland and Northern Ireland.
Earlier this year, the Welsh Assemby Government announced there would be no pilot cull - instead it has opted for a five-year vaccination programme.