The Wildlife Trusts celebrate centenary year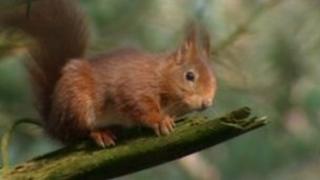 The movement that led to the formation of the Wildlife Trusts is 100 years old on Wednesday.
Banker and naturalist Charles Rothschild bought Woodwalton Fen in Camridgeshire in 1910, founding the Society for the Promotion of Nature Reserves on 16 May 1912.
It would eventually become an organisation managing 2,300 reserves.
Rothschild's ideas helped move the focus from saving species to protecting the habitats in which they live.
The movement traces its history to that first small piece of Cambridgeshire fenland.
By then almost all of the wild fens surrounding it had been drained for agriculture. Rothschild built a bungalow at Woodwalton to observe nature. He also worked on his ideas for a new approach to conservation.
On the 16th May 1912, he held a meeting in London that would form the Society for the Promotion of Nature Reserves (SPNR) which eventually became the Wildlife Trusts.
Stephanie Hilborne, the chief executive of the Wildlife Trusts, describes Charles Rothschild as a hugely significant figure in conservation: "He was ambitious, he was visionary and if these sites hadn't been protected and others like them we'd have nothing to build on to restore nature to some of its former glory."
Rothschild and his society sent out questionnaires to landowners, surveyors and fellow naturalists from which the SPNR drew up a list of 284 sites considered "worthy of preservation."
He gave Woodwalton Fen to the SPNR as its first reserve in 1919. The movement developed as local Trusts, set up to protect what they identified as special places for nature.
At the same time SPNR was campaigning for statutory protection of important sites which first came with the National Parks and Access to the Countryside Act in 1949.
Later it also played a key role in pushing for better protection of coastal habitats and the marine environment.
While Rothschild's ideas of protecting reserves are still central to the work, the approach is changing. The emphasis now is on what is often described as "landscape-scale" conservation.
Professor Sir John Lawton, the chairman of the Yorkshire Wildlife Trust, led a review of England's wildlife sites which was published in 2010. Called Making Space for Nature, it found that protected areas were often too small and too isolated.
"Rothschild said these are the areas that are important for wildlife, put a fence around them and protect them. What we're saying is continue to do that - of course encourage access - but then begin to join those up to re-create habitats."
That approach is already being used at Woodwalton Fen, Rothschild's original reserve. It is part of a project to create a 3,700 hectare wetland by connecting it with another National Nature Reserve, Holme Fen.
The Great Fen Project involves buying up land between the two and restoring it.
Kate Carver, the project manager, said: "They're really tiny areas, precious areas of survival and they're too small to sustain the ecology, the populations that live within them. They need more room to spread, they need connectivity between the two."
Today there are 47 Wildlife Trusts across the UK with more than 800,000 members.