Vertical stripes have slimming effect, research shows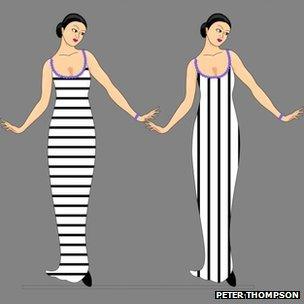 Wearing vertical stripes makes you seem taller and in horizontal hoops, you'll look wider.
But black is still the most slimming choice for clothing.
Her research overturned previous work by her own mentor, Peter Thompson from the University of York, on how clothing patterns affect visual perception.
She had the idea after she read about prior research done by psychologist Dr Thompson.
He used 2-D line drawings of women in dresses to show that horizontal stripes play a trick on our eyes, making people look taller and thinner.
However, when Ms Watham saw the study, like a good amateur scientist, she was sceptical about the findings.
"When I looked at the press coverage of the results, it was about artificial situations," she said.
"They'd used line drawings just filled in with flat stripes, and it didn't look like real people wearing real clothes."
So she entered "So You Want to Be a Scientist?", part of the Radio 4 programme Material World, asking to update the study using videos of people wearing striped outfits.
"I don't know why I was thinking about the study as I was listening to Material World on the last day before entries closed, but on a whim I filled in the form and here we are."
Her idea was selected as one of four finalists from over 1,000 entries by a panel of judges chaired by Nobel laureate, Sir Paul Nurse.
The effect of stripes on our visual perception was first discussed in the world of academia by Hermann von Helmholtz, a Prussian physiologist in the 19th Century.
At the time, Helmholtz advised those wanting to add a few inches: "Ladies frocks with cross stripes on them make the figure look taller."
To find out if the visual illusion held true in three dimensions, Dr Peter Thompson agreed to be Val's mentor and helped her turn the idea into an experiment.
"When you look in 2-D, the Helmholtz illusion is a very powerful effect," he explained.
"But there were reasons to believe that it might not be so clear-cut in three dimensions."
Ms Watham worked with first-year fashion students at the University of the Creative Arts, who designed, produced and modelled dresses and shirts for the test.
The undergraduates made outfits in vertical and horizontal stripes, plus plain black, in various male and female sizes.
Five hundred visitors to Edinburgh International Science Festival in April were shown videos of models wearing the outfits, and they were asked to rate how tall and wide the models looked in each outfit.
The results, documented on Ms Watham's Facebook research diary , show that vertical stripes make people look taller, while horizontal hoops make them look wide - but plain black was the most slimming of all.
The reason why black makes us look thinner is due to another visual effect discovered by Helmholtz, called the irradiation illusion, in which a black rectangle surrounded by white looks smaller than the same rectangle in white surrounded by black.
But the reason why Helmholtz's stripe illusion doesn't seem to work in 3D is a mystery.
"Val has got a really interesting result that needs an explanation, as we don't really know what's going on," admitted Dr Thompson.
"It may be something to do with the way stripes show up contours, and that horizontal stripes reveal contours more strongly than verticals, making people look wider."
But for Dr Thompson the next follow up study is clear.
"Next I'm going for legs," he says. "Because tights hug the contours of our body precisely, they are the ideal next step to investigate how stripes affect our perception."
Along with finalists William Rudling, Dara Djavan Khoshdel and Izzy Thomlinson, Ms Watham will be presenting her results at the Cheltenham Science Festival .
Mr Rudling will shed some light on whether people who look similar also have similar voices, while Mr Khoshdel studied whether people's emotional responses to an artwork are a good predictor of its monetary value.
Ms Thomlinson has results on what gender and age group is most troubled by "horrible noises" such as the sound of nails on a blackboard.
Related Internet Links
The BBC is not responsible for the content of external sites.