Rio: Worth the effort?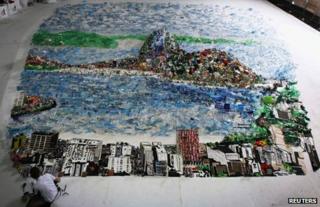 All the environment groups here have been going around saying that from a green perspective, Rio has been a failure. I'm not sure why, seeing as governments have promised to stop carbon dioxide emissions immediately.
You didn't know? I'm not sure government negotiators know either. Certainly US chief negotiator Todd Stern, who usually purveys a smooth brand of spin, waffled more than I've ever heard him when I raised the issue at a news conference.
Here's the key phrase from the declaration:
"... we reiterate the need to work collectively to prevent further ocean acidification..."
And the key word is "prevent".
As far as I'm aware, there's no way to "prevent further ocean acidification" other than by turning off the flow of CO2 into the atmosphere.
In fact, you'd have to go further.
A proportion of the extra CO2 already in the atmosphere as a result of humanity's historical carbon emissions will find its way into the sea and contribute to acidification. So that would need to be tackled too, either by absorbing it from the atmosphere or from the sea.
In the environmental movement's terms, that's a result, isn't it?
I'm raising the issue not because I seriously think governments will bring an urgent end to carbon dioxide emissions as a result of this declaration, but because it's absolutely clear they won't.
And that raises the question of what else they will and won't implement coming out of Rio20+.
If the answer is "very little", then that raises the further question of whether these big UN set pieces are really worth it.
What's the point in flying negotiating teams halfway round the world, providing all the five-star hotels and limousines and security details that 130-odd heads of state and government demand, if all you end up with is a piece of paper that will bring little change - especially as it was pretty clear beforehand that many governments weren't really interested in a major adjustment of business-as-usual?
A structuralist analysis of the text's penultimate iteration by WWF turned up some revealing statistics:
about 50 uses of the word "encourage"
99 "supports"
but only five examples of "we will"
and 59 things that governments "reaffirmed"
That's more than one "reaffirmed" a page, and none taking the world further towards a sustainable era.
There has been agreement on processes coming out of Rio that could lead to something concrete.
Sustainable development goals (SDGs) should be up and running by 2015. The next step is to decide what they should say; and there must be a question of how governments overall will engage with that, given the failure to agree themes in Rio.
Another process should lead to better governance of the high seas: marine protected areas, regulation of illegal fishing, and so on. As a caveat to the general gloom in environmental circles, it's worth noting that some activists specialising in marine issues were pretty happy with the outcome.
Ban Ki-moon will produce a report on how UN processes can better take into account the rights of future generations.
Some governments, and some civil society groups, see these processes as opportunities; if we engage with them properly, the vibe seems to be, we can make them worthwhile.
But the list of things that were not done is far longer:
setting a timetable to phase out fossil fuels
agreeing a global rule on corporate sustainability reporting
agreeing to implement economic indicators beyond GDP
agreeing financial support to help poor countries "green" their economies
The halls of these summits are, of course, filled with people who believe in the multilateral system.
But their faith has been shaken this week. One senses that the UN's faith has been a little shaken too.
A year ago, I wrote that the big summit was looking for a big idea.
One of the responses I received then from people close to the organisers was that the event wasn't going to be anything like the 1992 Earth Summit, when legal treaties were on the table encompassing all nations.
This one, it was said, would be more about countries and companies - and indeed groups of countries plus companies - making voluntary announcements on what they were prepared to do to make the world more sustainable.
And they've arrived - 680 at the last count, all listed on the summit website. If you feel like doing a crowd-sourced analysis, why not look at one or two and post a comment?
But as several observers have said, why bring ministers and corporate leaders to Rio, when they can make all the voluntary commitments they want at home?
If voluntary commitments are all governments want to do at this point in time - which appears to be the case, given the nature of the climate change accord made at the Copenhagen climate summit in 2009 and now this - that begs two more questions.
Firstly, is there any point in pretending otherwise? And secondly - and more importantly - can voluntarism ever be enough to sort out the complex mix of social and environmental issues that humanity finds itself facing?