New chief scientist to bring forthright approach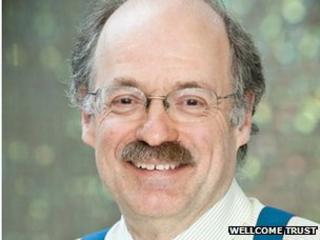 Prof Sir Mark Walport has been appointed to be the UK government's chief scientific advisor.
He is seen as a "big-hitter" who knows his way around the Whitehall machine. He is earthy, forthright and a great communicator.
His tenure as one of the most influential civil servants in Whitehall is likely to be eventful.
Prof Walport is currently director of the Wellcome Trust, one of the largest funders of medical research in the world.
He has a reputation for being tough. He has steered through controversial strategic changes at the trust that have won him many friends but also some enemies.
Prof Walport has strong opinions on a variety of issues and is not shy to express them, often forcefully.
'Marmite figure'
It is these qualities that have made him a "marmite figure" with movers and shakers in the research community.
Many, including the popular and respected current president of the Royal Society, Sir Paul Nurse, love his straight talking style.
Others loathe what they feel to be an uncompromising approach.
It was for this reason that some fellows of the Royal Society had opposed his invitation to their exclusive club for years. He was finally let in in 2011. Being a fellow seems to be a prerequisite to being the government's chief scientist.
The job description is a straightforward one: to advise the prime minister and UK government on scientific matters.
Chief scientists are judged on how well they perform during times of crisis, such as the Icelandic ash cloud in 2010 and the foot and mouth outbreaks of 2001 and 2007. It is at these moments that the prime minister and country turn to the chief scientist.
During the first foot and mouth outbreak, Tony Blair is said to have asked the advisor of the time, Prof Sir David King, when he thought the worst of the outbreak would be over to help him decide when he could call the next election.
Prof King correctly predicted the worst would be over by June: a call which subsequently won him great influence within government.
But the role is seen to require more administrative skills since then.
Prof King's successor and current chief scientist, Prof Sir John Beddington, oversees a large Government Office for Science and is required to oversee the scientific work of all other government departments.
It is probably for this reason that Professor Walport has been appointed.
Traditionally, the criteria for the successful candidate are that they should be eminent in their field and that they command the respect of the wider scientific community.
Prof Walport certainly commands respect but he has not been eminent in his field of research in recent years.
So his appointment marks a departure from the norm, but it was felt that his experience as head of the Wellcome Trust more than made up for his lack of recent experience as a working scientist.
Prof Walport's first big test according to Bob Ward, who worked closely with a former chief scientist, Lord May, is to reverse the cutbacks in research spending.
Enthusiastic approach
"If the UK is to continue to be a world leader in research, Professor Walport has to make a very strong case to government and particularly the Treasury in time for the next spending review.
"We're all hoping that his experience at the Wellcome Trust will stand him in good stead."
That was a view echoed by James Wilsdon, professor of science and democracy at Sussex University.
"The next few years won't be easy for UK science. Another spending round looms. But in Walport, the community has a leader who can inspire enthusiasm, confidence and support," Prof Wilsdon told me.
The new chief scientist will also have to vigorously defend the budgets individual government departments have to spend on research.
These budgets have been seen as soft targets and have been raided by ministers and civil servants.
All ears
Professor Walport's predecessors have overseen the development a formidable system of collecting and disseminating scientific advice across Whitehall.
At the heart of this system is a network of scientific advisors in each government department.
The problem is that the system is not taken seriously by the arts-dominated civil service.
Many would like Prof Walport to galvanise the internal system of scientific advice so that it really does contribute to evidence-based policy-making in the way it was designed to rather than its advice fall on deaf ears.
He will also be charged with widening the circle of people from whom advice is taken from - rather than turning to what has been perceived as in inner circle of "mates" from the Royal Society, not least because he himself is thought to have been selected from an all male shortlist of candidates .
But a quote from Prof Walport himself suggests that he already has a clear view of what he wants to achieve in the job when he takes up his post next year, and that he's prepared to draw advice from a wider group.
"Science, engineering and technology have transformed the infrastructure of the modern world, and have a vital role to play at the heart of policy-making. They are critical both to economic recovery and growth, and to addressing many of the greatest challenges of our time, such as environmental change and the ageing population," he has said.
"I look forward to working with colleagues both inside and outside government to ensure that the best possible advice can be provided from the most expert sources, based on the strongest evidence, to facilitate the wisest possible policy decisions.
Follow Pallab on Twitter