Whaling: From 'bloody' to 'boring'?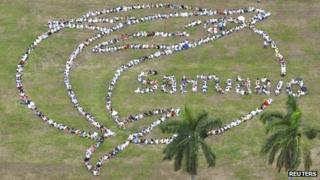 If you have a thought to spare this week, spare it for Tony Burke.
The Australian minister for sustainability, environment, water, population and communities is due in Panama City for a couple of days to bang the drum for what has been his country's favourite environmental cause - whaling.
But it might be a visit that no-one notices.
When I covered my first International Whaling Commission (IWC) meeting back in 2005, Australian journalists were the second biggest posse in the press room (after the Japanese), and certainly the most entertaining.
Then, ministers such as Ian Campbell (who subsequently went on to join the advisory board of the Sea Shepherd Conservation Society) and Peter Garrett could denounce Japan's whaling "slaughter" from one end of the conference hall to the other, confident that a TV camera would forever be on hand to bring his judgement to the folks back home - not, one sensed, that they needed any convincing.
This year, not a single Aussie camera crew nor even a humble smith of the written word will be there to record Mr Burke, should he similarly declaim.
As I write these words, I'm sitting on a raised rostrum at the back of the main hall here that's been set up for TV crews - power outlets, audio feeds and all.
But I have it to myself.
In recent years, Australia has been the touchstone for public interest in whaling.
The country has pretences to own a giant slice of the Southern Ocean, it has a thriving whalewatching industry, and the zeal of a recently reformed smoker, having quit the harpoon itself only in 1979.
A quick Google News search in advance of this year's meeting for "Australia + IWC" turned up not a single article, and it's far from being the only country where there's a dearth.
So what's happened?
One answer may lie in how the IWC's agenda is effectively changing.
The biggest issue out there for many supporters and opponents of whaling is Japan's programme in the Southern Ocean - closely followed by Japan's coastal whaling programme, Iceland's fin whale hunt and associated whalemeat exports, and the Norwegian hunt.
But despite all the sound and fury of recent years, inside and outside the IWC, those programmes have continued largely unchanged.
Where there have been changes, they've happened in spite of the IWC.
Japan's annual catch has shrunk through the apparently declining appetite of consumers for whalemeat, depleted government finances, and harassment by the Sea Shepherd Conservation Society.
Iceland isn't exporting as much whalemeat as it would like, because, again, of consumer disinterest in Japan.
Added to that, the so-called "peace process" designed to find a compromise between pro and anti-whaling nations concluded in 2010 without agreement, signifying that established official positions are pretty much immutable for the time being.
So IWC discussions have moved on.
This year, aboriginal subsistence whaling (ASW) is top of the agenda.
And despite serious concerns about humane killing and the blurring lines between what constitutes a subsistence need and what is quasi-commercial, hardly anyone connected with the issue disputes the basic point that indigenous peoples who depend on whalemeat should be allowed to hunt them.
Slowly, and almost despite the intergovernmental nature of the top-line discussions here, the IWC is developing programmes of conservation science - I'll be reporting on some of them later this week.
So it's harder to get angry. Words like "slaughter", which once dripped with blood from a Japanese harpoon, have largely been excised from the IWC lexicon.
A few years ago, Japan's deputy commissioner to the IWC, Joji Morishita, observed that in his view, whaling should become "boring" - uncontroversial, flying under the public radar, like most fisheries issues.
Has his wish come true?