Sports doctor linked to Lance Armstrong denies doping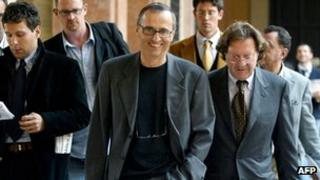 An Italian sports doctor accused of doping with cyclist Lance Armstrong has branded the charges "false and ridiculous".
Dr Michele Ferrari was given a lifetime ban this week for his involvement in doping since 1999.
The US anti-doping agency (USADA) said he had developed new, illegal methods of enhancing performance.
But Dr Ferrari said that he had never witnessed any kind of doping within cycling teams.
Dr Ferrari has a long association with cycling, acting as a consultant for a number of high profile professionals down the years.
Lance Armstrong once described him as a friend and a trusted adviser but severed formal ties with him after the Italian was convicted of sporting fraud in 2004 in relation to doping issues. Those charges were dismissed on appeal in 2006.
Just last month USADA laid out a detailed charge sheet against Dr Ferrari and two other doctors whom they said had conspired with Lance Armstrong to cheat by trafficking and administering performance enhancing products.
Olive oil doping
One of the specific accusations made against Dr Ferrari was that he had developed a new doping method that involved mixing olive oil and testosterone. It is alleged that it was administered to riders under their tongues and would aid in their recovery.
USADA say this mix was called the "oil" by team members. The anti-doping agency say that if it was taken this way, the drug would be absorbed into the lymphatic system without being transported to the liver, making it more effective and less likely to cause damage to the organ.
But in a statement on his website, Dr Ferrari dismisses the idea that olive oil could facilitate or conceal testosterone.
"This is an old legend that has circulated for years in the peloton, a sort of magical mixture to fantasize over while sipping a beer," he said in a statement on his website.
USADA says that numerous riders have given evidence that Dr Ferrari not only administered the blood boosting drug erythropoietin (EPO) but gave them specific advice on how to inject it intravenously so that it wouldn't show up in doping tests.
No communication
Dr Ferrari says this is ridiculous, as the information on how the drug is eliminated is contained on the booklet inside the packaging.
Earlier this week the US authorities handed down a lifetime ban to Dr Ferrari and another doctor and trainer on the grounds that they had not responded to or contested the charges.
However Dr Ferrari has denied receiving any form of official communication from USADA and says he has learned from the media that he has been banned for life.
The head of the UCI, cycling's governing body, expressed some bemusement at the ban suggesting that Dr Ferrari did not hold a current training licence.
Lance Armstrong is contesting the doping charges made against him and has filed a lawsuit in Texas in an effort to get them dismissed.