Rio revisited: Glass half-full?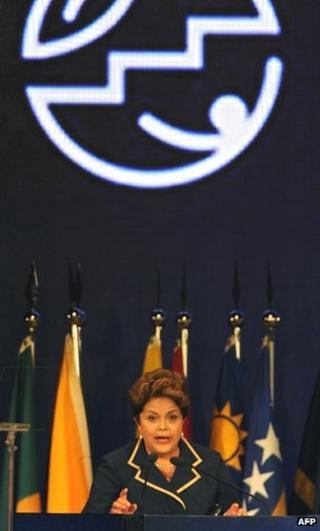 A couple of weeks back I chaired a debate at Chatham House, the London-based think tank, on a question that I'd been asking myself for a while.
Rio+20: Green Growth or Greenwash? was the title.
As I outlined at the beginning of the debate, it was almost as if Rio de Janeiro hosted two completely different UN sustainable development summits simultaneously in late June.
One was attended by the Brazilian government, several UN institutions, corporations, and people who advise corporations on issues such as supply chain reform.
Their summit was a great success - pledging money for various sustainability initiatives, setting up new partnerships, saving multilateralism and proving that the private sector has raced ahead of governments in their desire for a greener, more equitable future.
Groups such as Oxfam and WWF were evidently at a different event.
Theirs achieved virtually nothing, with Oxfam UK chief Barbara Stocking, for example, saying "it absolutely did not" seize what had been billed as a "once in a generation opportunity" to put the global development path on a sustainable track.
At the time, along with just about every other journalist I spoke to, my impression was more in tune with WWF and Oxfam than the glass half-full contingent.
With hindsight, did I miss something?
Let's begin with the summit organisation itself - properly the United Nations Conference on Sustainable Development. For more than a year beforehand, organisers were clear that this would not be one of those events that delivered a big, binding international agreement on anything.
Rather, they said, we should look at the commitments that governments, companies and civil society groups were prepared to make.
And make commitments they did. The UN summary claims "more than 700".
Sounds a lot - so what are they?
A majority fall in the category of education. Let me pull one out at random from near the top of the list, from Alfred State College in the US.
"Over the next year, we intend to complete an assessment of our sustainability performance using the Sustainability Tracking, Assessment & Rating System (Stars)," it reads.
"We will use the results of this assessment to prepare a comprehensive sustainability plan that includes quantitative targets. Stars will also provide a mechanism for tracking and communicating our progress on sustainability over time."
Near the bottom - for no better reason than I went there once - I select the University of Tampere.
"The University of Tampere has launched a programme for sustainable development, the Sustainability Programme, where it sets the objectives for promoting sustainable development in the teaching, research and everyday operations at the University for the years 2012-2015."
Tampere is also Finland's first Fair Trade university.
The most dynamic-sounding pledge on the register involves planting 100 million trees, mainly in schools, by 2017.
Rio summit jargon buster
Use the dropdown for easy-to-understand explanations of key terms:
Access and Benefit Sharing (ABS)
Granting countries the right to gain financially from the exploitation of biological resources discovered on their territory. Aims to prevent biopiracy. Agreement made at the UN CBC meeting in
Nagoya
, Japan in 2010. Rio+20 will see further discussion particularly of resources from international waters.
As this initiative has been going since 2004, it's hard to see how it qualifies as "new" - nor, as it's planted seven million trees in those eight years, what guarantees the planting of another 93 million in just five years. Nothing wrong with planting trees, of course. China alone claims to plant more than a billion each year.
On the business side, consultancy firm KPMG - in the shape of its special global adviser Yvo de Boer, former head of the UN climate convention - has highlighted the pledges of the private sector.
"On the sidelines of Rio+20, green economy pledges of more than $500bn have been made," he tweeted.
A KPMG analysis notes that on the governmental level: "Signing something, anything even, was seen as better than signing nothing. That... produced a lowest common denominator document that satisfied almost no-one."
However, while governments were busy saving face, it contends: "There was plenty of action, it just did not come from the multilateral political negotiations. Businesses - and some governments, both national and local - got on with the job either unilaterally or in groups, often in collaboration with civil society and NGOs."
A separate bit of the UN website records pledges made by businesses at Rio+20. Here's a random selection:
"A subset of UN Global Compact CEO Water Mandate companies pledge to expand and deepen their efforts in support of more sustainable water management practices in 2012 and beyond"
"Reduce potential damage to natural infrastructure by reducing water, land, and air pollution resulting from the disposition of electronic waste by instituting stringent practices for the responsible management, disposition and tracking of e-waste" (Lockheed Martin)
"Supporting under-served young people acquire the education and skills needed to join and succeed in the 21st century workplace" (Deloitte)
Again, nothing much not to like. But is it enough?
At my first UN climate summit, in Nairobi in 2006, I asked an experienced negotiator what to me was the only question that mattered: "What has this event done to curb climate change?"
He gently chided me for it. "That's the one question you're not supposed to ask."
Before Rio+20, just about every environmental indicator was pointing in the wrong direction. Greenhouse gas emissions, loss of biodiversity, ocean acidification, loss of forest and wetland... and at Rio, governments acknowledged it, repeatedly, in speeches.
So in all the voluntary commitments made at Rio, precisely what is there that will turn any of these trends around?
Looking at the social side of the sustainable development agenda, precisely what happened to bring the poorest out of poverty, supply them with proper sanitation, or free them from the burden of eminently treatable childhood illnesses?
What was agreed to insulate the global financial system against further shocks - another issue identified by world leaders in the run-up to Rio as a just subject for discussion?
If the answer to those questions is "very little", then precisely what was the point?
The Chatham House debate didn't produce anything to seriously challenge my initial conclusions.
Panelists with business connections ran through a number of initiatives happening in buildings, energy supply, water efficiency and so on that are curtailing the expansion of industry's footprint.
But they also acknowledged it's not enough.
When big UN set-pieces fail, people come up with apologist answers for a number of reasons. They're desperate to preserve the multilateral process. They're keen to please the hosts. They see other issues as more important than the conference agenda. Or they have a particular line to push.
But I think, overall, with the benefit of five weeks of hindsight and a number of post-Rio discussions under my belt, the conference that I reported on was the one that actually took place.