Environment Agency's Lord Smith backs UK green growth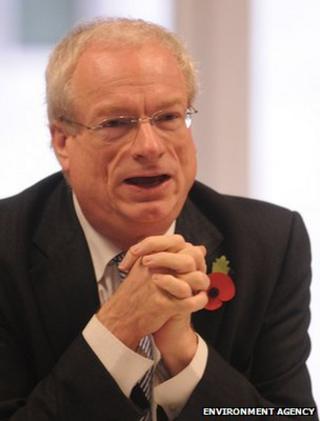 The Environment Agency's chairman has used a visit to Europe's largest soft drinks plant to promote the business merits of green growth.
Lord Smith said greening business behaviour was one of the "unsung successes" of environmental regulation.
Progress made by the food and drink sector is one of the areas that the agency is promoting to show how green growth is helping the UK economy.
Lord Smith was visiting Coca-Cola's facility in Wakefield, West Yorkshire.
"What we are doing over the course of this month is to highlight good environment practice in a whole range of different businesses across the country," Lord Smith said.
"One of the unsung successes of environmental regulation over the past 20 years is a steady progress in achieving better environmental performance from businesses of all kinds."
He told BBC News: "This is not just good for the environment, but it is good business sense as well because - very often - reducing waste, energy use and the amount of water used makes financial sense."
Food for thought
The food and drink sector is the nation's largest manufacturing industry, with an estimated annual turnover of £73bn, employing more than 15% of the UK's workforce.
But its size also means it has a sizeable environmental impact.
It accounts for about 5% of all industrial water use, and carbon accounts show that as a result of operations, 2.5m tonnes of carbon were released into the atmosphere and produced 3m tonnes of waste.
The Environment Agency said the sector was "generally compliant", with more than 80% of audited businesses being rated as "A&B" - meaning the vast majority were considered "good performers".
"This is a very intensive, waste producing, water guzzling sector," explained Lord Smith.
"Having said that, a large number of companies within the sector have been making huge progress in improving their performance.
"There is good progress but because it is such an impactful industry, there is scope to improve."
The site chosen for Lord Smith's visit, which employs 520 people and covers an area the size of 33 football pitches, has cut its energy consumption by 16.5% since 2006 and was the first plant in the global food and drink sector to achieve ISO 50001 - an international standard for energy management.
The facility, capable of producing 6,000 cans and 3,200 bottles of soft drink every minute, has also cut its water use and has not sent waste to landfill since 2009.
Ian Johnson, director of Supply Chain Operations at the Coca-Cola's Wakefield plant, said: "Our company philosophy is to continue to grow more while using less.
"A great deal of consideration is given to the environmental footprint of our products," he observed.
"We also recognise that water is a precious resource, and work towards greater efficiency throughout our operations with our 'reduce, recycle and replenish' policy."
'Economic sense'
Lord Smith acknowledged that it was easier for major multinational firms "with deep pockets" to invest in improving environmental performance that it was for many smaller businesses.
"However, the case I would make for many small and medium sized enterprises is that doing the wise thing environmentally is also, in many cases, doing the wise thing financially," he said.
"Reducing your energy use will save money; reducing waste and sending less to landfill, thinking about how you can recycle and reuse - all of that makes economic sense."
He also said that companies were also obliged to abide regulatory requirements.
He warned: "Where there is bad and environmental damaging practise, we will come down hard on the villains. We will intervene as is our duty."