Endurance: 'Still time' for Shackleton centenary search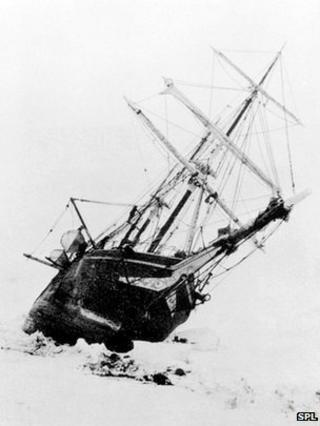 A long-standing bid to locate the wreck of polar explorer Ernest Shackleton's ship Endurance could still be mounted in time for the centenary of his most famous expedition in 2014.
That's the view of expert David Mearns, who heads the ambitious proposal.
Mr Mearns said any effort to find Endurance would be technically challenging and expensive.
But he says it could be prepared in a year-and-a-half if financial backing could be secured.
Mr Mearns, who is director of UK-based Blue Water Recoveries, calls it "a 100-year dream".
He said there were no "concrete" plans at present to search for the wreck. But the project is under discussion, and Mr Mearns adds: "There is certainly more interest today than there was two years ago."
The 1914 Imperial Trans-Antarctic Expedition, led by polar explorer Ernest Shackleton, set out to complete the first land crossing of Antarctica. But when Endurance became trapped by pack ice in the Weddell Sea, the crew had to abandon ship and camp out on one of the floes.
Some key supplies were salvaged before the vessel was crushed by the ice and sank. Though Shackleton had failed in his goal of crossing Antarctica, the expedition would later be celebrated as an epic feat of survival.
The crew drifted until their floe split suddenly, forcing them to undertake a perilous journey in lifeboats. They eventually reached Elephant Island, where Shackleton selected a small breakaway group to accompany him on a voyage to South Georgia to seek help.
After the small party reached the whaling station of Stromness, he organised a rescue for the remainder of his crew. After four attempts, they were finally picked up from Elephant Island by in August 1916.
There has been ongoing interest in locating the wreck of Endurance - one of history's great lost ships - for years, including at least two recent bids.
"The research and operational planning - the desktop work - for this project was completed years ago," said Mr Mearns.
"We're not starting from scratch - we can get geared up very quickly. We can do that in a year-and-a-half, but two years would be better," he explained, adding that ideally he would want more time to prepare.
He said any expedition would likely cost between US$15m and US$20m, explaining that "it's not so much about finding one 'white knight', it's about finding several key sponsors who could work together."
Mr Mearns continued: "If this wreck were anywhere else in the world it would have been found, either by me or somebody else.
"The challenge is the ice - it's the same one Shackleton had. If you solve that problem, you can be successful. But the only way to solve the problem is with big, heavy ice-breaking ships. And not just one, at least two. Three would be better, but two would be affordable - and I think would be successful."
"One ship can't go into the Weddell Sea and be strong enough to withstand the drifting ice floes. They would move the ship off station. The one thing that we do in these expeditions is to be stationary over the shipwreck.
The first two objectives of the expedition would be to find the wreck and then film it using an ROV (a tethered Remote Operated Vehicle). Mr Mearns said his plan would be to position ice-breaking ships upcurrent to break up the floes into smaller chunks that the stationary ship could handle.
"Even if we go completely cable-less (with an untethered autonomous vehicle, or AUV) in the search phase, if you are going to have an ROV in the water later on, you have to stay over the top of the wreck," Mr Mearns told BBC News.
A hybrid ROV and AUV such as Nereus - built by Woods Hole Oceanographic Institution (WHOI) in the US - might be suitable for such an endeavour. In AUV mode, it can survey large areas of the sea floor to search for targets of interest. It can then be brought back on the ship allowing it to be transformed into an ROV which can then be used on a tether to transmit real-time video and receive commands.
Endurance is thought to have settled about 3km (10,000ft) below the sea (about 610m, or 2,000ft, shallower than the Titanic wreck). Its final resting site is thought to be some 1,600km (1,000 miles) south of Cape Horn in Chile.
Recovering items from the wreck site would be a tertiary objective. Recovery remains a topic of much debate among those interested in locating and exploring historic wrecks.
But David Mearns comments that "there isn't any problem with recovering things from the wreck as long as it is being done in an archaeologically sensitive way and that they are going to museums - which is all in our plan. But we'd just be happy finding it and filming it."
He has agreed a deal with Shackleton's family protecting their interests and rights if any expedition were mounted to find the ship and, as a result, has their full backing. After having to pay back many of his sponsors in full, the Antarctic explorer died penniless. Even the royalties from his book South went towards paying off his debts.
The deep water search expert previously led expeditions that discovered the wrecks of the World War II battleships HMS Hood and HMAS Sydney, along with the MV Derbyshire, a UK-built tanker lost during a typhoon off the coast of Japan in 1980, amongst others.
With 2014 in sight, there is renewed interest in a Hollywood film, and several expeditions are being planned to celebrate the centenary of Shackleton's voyage.
Shackleton Epic, to be undertaken by members of the Royal Navy and Royal Marines, will re-enact the hazardous boat journey from Elephant Island to South Georgia in a replica of the lifeboat, James Caird.
Mr Mearns said that even if the Endurance search could not be prepared in time for 2014, there would be other opportunities: the anniversary of the ship's sinking was in 2015 and the crew did not return from Antarctica until 2017.
Last month, a team from the California-based Schmidt Ocean Institute located the wreck of Terra Nova, the ship that carried Captain Scott's party on their ill-fated expedition to reach the South Pole.