Viewpoint: 'Spend 4G cash on science'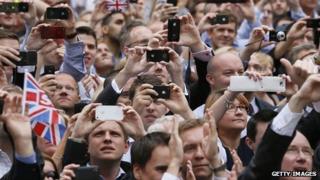 In a viewpoint article, Imran Khan, director of the Campaign for Science and Engineering (CaSE) argues that the money from the 4G spectrum auction should be re-invested in science and technology - the sectors which spawned the advances that have led to the windfall.
Shadow Chancellor Ed Balls has called for the forthcoming 4G spectrum auction to be spent on stimulating the economy by building new homes and paying for a stamp duty holiday. The auction could raise up to £4bn.
But given that the financial crash was partly caused by a housing bubble in the first place, and that we desperately need to rebalance our economy towards being a high-tech one that's less reliant on debt, is it the best use of the windfall?
We'd argue that the government should be looking at re-investing the proceeds in science and technology instead. We need to plan for the long-term, and the best argument for doing so comes from the history of this 4G technology.
The spectrum auction is happening so that we can use existing radio frequencies to get even faster speeds for mobile internet.
Those radio frequencies were first discovered by the British scientist James Clerk Maxwell, whose career would not have been possible without the UK's university system.
Clerk Maxwell's work was then first commercialised here in the UK. The Italian entrepreneur Gugliemo Marconi received backing from the Post Office and then built the world's first radio factory in Chelmsford in 1898.
Fast-forward a century, and it was British scientist Sir Tim Berners-Lee who invented the Web in 1990 - which has since driven big increases in smartphone ownership, and a huge part of the reason we need the faster speeds that 4G can offer.
Once again, funding for Berners-Lee's work came out of the public purse rather than the private sector.
Sustainable growth
There are three big lessons that come out of this story.
First, you need public investment to get radical advances in science and technology.
Second, these advances benefit society - both by improving our quality of life, and by boosting the economy. It's estimated that the UK mobile telephony sector was worth £22bn even way back in 2003.
And third, the investment gives you long-term, sustainable growth. Discovering and exploiting radio has created completely new technologies, markets, and jobs. We've benefited from similar technology revolutions in the past, and continue to do so now.
For example, "blue skies", curiosity-driven research into lasers over 50 years ago now has applications in everything from DVD players to surgery.
And the Human Genome Project led to advances in genetics which have put us at the beginning of a road to personalised healthcare. There are hundreds more examples, in everything from agriculture to transport.
So not only would we not have the windfall if it weren't for investments in science and technology, but we'll be robbing ourselves of future windfalls if we don't reinvest the money in research and innovation now.
If we want more people to be able to afford houses in the long-run, a two-year tax holiday for home-buyers isn't the way to do it. Instead, we need to create more wealth in the economy at large.
And for the UK, that wealth isn't going to come from digging things out of the ground or competing on cheap labour. We need a high-tech, modern economy that can compete with the world's emerging giants.
Road ahead
So how do we get there? Firstly, we'll need a more scientifically literate workforce, so let's put more cash into hiring science and maths teachers.
We'll also need to be producing the kind of top-quality research and scientists that the world's top companies want to work with, so we could pay for the world's best network of scientific facilities and academics to be built here.
And we need radically new ways of funding scientific businesses, who are consistently let down by our banking and investment system which values quick wins over long-term growth. We could create new challenge prizes (like the Ansari 'X' Prize) and agencies which deliberately drive innovation (like Darpa in the US).
All of this, and much more, could be achieved for the same £4bn that Ed Balls is proposing to use for a two-year boost for housing.
Later this month, the Campaign for Science and Engineering (CaSE) and Nesta are releasing a joint report which will show exactly how.
So our message to Mr Balls is simple - you're on the right track. But instead of paying for paying for a short-term uptick in the property market, back science and technology and utterly revolutionise the UK economy for decades to come.
Imran Khan is the director of the Campaign for Science and Engineering (CaSE), an independent advocate for science and engineering in the UK