Space ticks the boxes for UK plc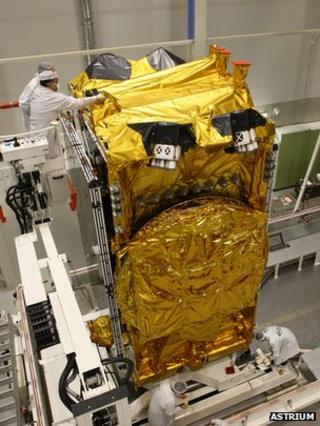 When the 19 member states of the European Space Agency (Esa) meet in Naples in 11 days' time, you'll be able to tell the British delegation from quite a distance. They'll be the ones with a bit of a swagger in their step.
The Chancellor George Osborne has just told them they can now commit substantially more money to the intergovernmental organisation's projects.
Currently, the UK invests an average of £170m a year in Esa. This is going to rise to an average of £240m over the period from 2013/14 to 2017/18.
It is a significant uplift at a time when many other member states have been frantically stuffing their hands down the back of the sofa to find the cash just to pay their existing subscriptions.
This Naples Ministerial Council will be key in setting the priorities of the agency in this decade, and Britain has now indicated it wants to play a leading role - but with a very clear purpose: to spur economic growth at home.
Many people think of Esa as a science organisation - and it is. But it is also a huge industrial programme. Each year it places contracts across Europe worth billions of euros; and the more money a member state puts into the Paris-based club, the more money that flows back to the home companies. And this is all hi-tech investment with proven multipliers, so the real return is even greater.
Take telecommunications satellites, for example. The UK's past investment in the Esa programme called Artes (Advanced Research in Telecommunications Systems) has generated an economic return for the UK of more than six to one.
The Astrium company at its Stevenage and Portsmouth centres has benefited most from this investment, and has become one of the world's leading suppliers of all those spacecraft up there that relay TV and phone calls around the globe. And this "upstream" activity has been followed by even more lucrative "downstream" businesses.
Inmarsat of London is the big daddy of mobile satellite communications services, and there are few more successful satellite TV companies in the world than British Sky Broadcasting.
As I've written before, government and industry in the UK now have a joint plan to push the space sector forward, and Science Minster David Willetts has been steadily working through a checklist that broadly follows the recommendations in the Space Innovation and Growth Strategy (S-IGS) published in 2010.
This document laid out the path it believed could take the UK from a position where it currently claims about 6% of the world market in space products and services to about 10% by 2030, creating perhaps 100,000 new hi-tech jobs in the process.
Key S-IGS recommendations implemented so far include the establishment of the UK Space Agency (UKSA) and a National Space Technology Programme. Government support for an innovative radar satellite called NovaSAR was a tick in the box that called for investment in Earth observation.
Other pluses included the International Space Innovation Centre (Isic) and the Catapult Centre in Space Applications set up at Harwell, Oxfordshire. These institutions are very much industry-focused and will seek to foster near and far ideas and bring them to market.
George Osbourne's announcement of extra money for Esa fulfils yet another of the S-IGS recommendations.
"The fact that the UK government is increasing its subscription to Esa programmes is a huge vote of confidence," said Inmarsat's Ruy Pinto, who is also the chairman of UKspace, the industry trade body.
"It indicates that industry and science have successfully made the case - that started with the S-IGS - for targeted investments into our sector because of the return we could make to the UK economy. We tick a lot of boxes with the government in terms of wealth creation, job creation, export growth, and in being technology and science-led."
You don't need to be a rocket scientist to work out where the UK delegation plans to put a sizeable chunk of its elevated subscription in Naples. It will go into telecoms projects like Artes to develop the next generation of satellites.
Esa itself is so impressed by the UK's commitment that it is likely to move its telecommunications and integrated applications HQ from its big technical centre in Holland to its newly opened facility in Harwell.
This corner of Oxfordshire is becoming quite a magnet for new space activity.