Solar Impulse plane reaches Washington Dulles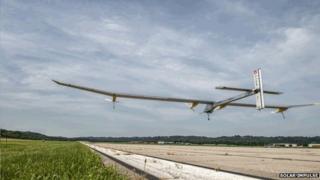 A solar-powered plane has touched down in Washington DC, ending the penultimate leg of a first-of-its-kind bid to cross the US on solar power.
The Solar Impulse vehicle landed at the capital's Dulles airport at 00:15 local time (04:15 GMT).
The plane will remain in Washington until early July, when it will take off bound for New York - the final leg of the "Across America" project.
On Sunday, the plane will be on view to the public at Dulles Airport.
This is the location of the US National Air and Space Museum's Steven F Udvar-Hazy Center.
The fourth leg of the journey from St Louis was re-routed via Cincinnati at the last minute, as high winds and air traffic would have made the direct journey longer than the team's prescribed limit of 24 hours for one pilot to be at the controls.
After a 15-hour, 14-minute hop, the HB-SIA prototype craft landed at Cincinnati's Municipal Lunken airport on Friday evening in order to allow a change of pilots - Bertrand Piccard taking over from Andre Borschberg.
The segment from Cincinnati's Municipal Lunken airport to Dulles lasted 14 hours and four minutes.
On landing, Andre Borschberg said that "with the successful completion of these last four US flights, we have shown that we are capable of coping with challenging meteorological conditions for our weather-sensitive plane and for our ground operations, and that we could find each time the right solutions to move forward. It has been a succession of fruitful learnings preparing us for the 2015 world tour."
Piccard's and Borschberg's intention is to build a bigger plane than the HB-SIA prototype and fly it around the globe.
The HB-SIA craft already holds the world record for the longest manned solar-powered flight at 26 hours. The aeroplane's other records include the first inter-continental flight in 2012.
The Across America project coincides with Piccard's and Borschberg's Clean Generation Initiative, an effort to encourage policy-makers and businesses to develop and adopt sustainable energy technologies.